In a realm now dominated by Google, Twitter and Facebook, where do portal titans of Web 1.0 fit in?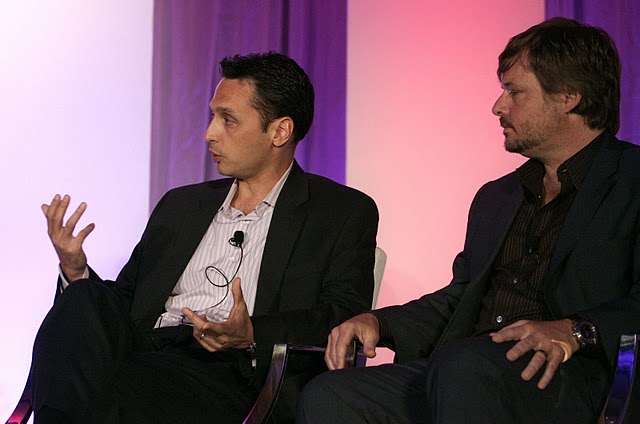 Consider MSN and Yahoo "analogous to the broadcast networks," said Scott Moore, U.S. executive producer for MSN, speaking alongside Yahoo VP and GM Jimmy Pitaro on a panel at TheGrill Tuesday morning.
"Advertisers know that if they want to break through and reach a big audience, they need to buy the homepage of MSN or Yahoo," Moore said.
In fact, reaching audience sizes that far surpass the Big Four networks — Yahoo touts a total reach of 600 million users, Pitaro said — both companies are increasingly investing in Hollywood-spun original content … well, at least investing to a point.
Moore, for example, noted MSN's successful joint ventures with production company BermanBraun, which has yielded WonderWall and Glo — sites that generated 12.4 million and 5 million unique users respectively for the portal in July alone.
"We've been a little too conservative in the (content) space," added Pitaro, who introduced a new show for Yahoo Sports, "Behind Enemy Lines," that was sponsored by Budweiser. "Most of what we've done so far has been recap-type programming. Now, we're moving into the next stage of our evolution."
Moore said MSN will continue to sign content deals with companies like Berman Braun, which are vested in traditional mediums like television.
But sheer audience reach, not to mention the attachment of Blue Chip brands, will not equate to television-like compensation.
"What we're not going to have is big-budget Hollywood producers spending TV dollars to put stuff online," said Moore, noting that MSN won't spend more than a quarter-million dollars to develop a piece of content. "We don't need to. We have plenty of people who can do this (inexpensively) for us."
Also unlike the traditional broadcast networks, they compare themselves to, neither Yahoo nor MSN rely on focus groups.
"With 600 million viewers, we're sitting on a boatload of data every day," said Pitaro, noting Yahoo rarely commissions the creation of content without consulting its homepage group first to see that the base topic is trending strongly with users.
"If the front page team tells us something will work, we pretty much know it will," he said. "For us, it's not a matter of low-risk, it's no-risk."
During the 2008 Beijing Olympics, for example, Pitaro said his team noticed a lot of search activity among users who were trying to figure out why divers showered after every splash.
A blogger was immediately assigned to find the answer (it was merely to keep warm) and do a short write-up.
"We ended up getting huge traffic out of that," Pitaro noted.
Beyond content, meanwhile, search is still viewed by Yahoo and MSN as a huge opportunity, despite Google's dominance.
Launched only last year by MSN parent Microsoft, Bing now owns 28 percent of the search marketplace, Moore noted.
"That's a bigger business than Windows and Office combined," he added.