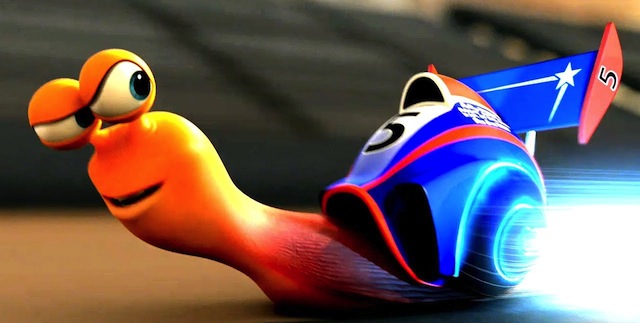 It wouldn't be right to totally slime "Turbo," an animated tale about a snail who longs to race in the Indianapolis 500.
The film will entertain young moviegoers, the audience at which it is primarily aimed. But adults in the audience who've sat through the animated offerings of the past decade or two will likely find the film derivative and trifling.
"Turbo's" hero is Theo (voiced by Ryan Reynolds), who prefers to be called by his nom de racer, Turbo. His protective older brother, Chet (Paul Giamatti, whose distinctive voice works perfectly for the character), worries that Turbo is aiming too high in thinking he can become a speed demon. But Turbo adopts as his mantra the motto repeatedly expressed by his hero, Guy Gagné (Bill Hader), a French racing champion, who lectures, "No dream is too big and no dreamer too small."
See video: 'Turbo' Wants to Redefine 'Snail's Pace' in Trailer for DreamWorks Film
Before you can say "Fast and Furious," our hard-shelled protagonist magically goes from sluggish to speedy after an accidental, up-close-and-personal encounter with nitrous oxide in the engine of a souped-up vehicle during a street race. Soon he's off to the Brickyard, accompanied by his brother, a posse of fellow snail racers (voiced by Maya Rudolph, Snoop Dogg, Samuel L. Jackson and more), and his sponsors, a ragtag group that includes a taco truck driver (Michael Peña) and other owners (Richard Jenkins, Ken Jeong and Michelle Rodriquez) of faltering businesses in a forlorn strip mall north of the 101 in Van Nuys, Calif.
All of this proceeds competently enough, interrupted periodically for musical montages featuring rap tunes.
But the whiff of the familiar is strong in "Turbo." How different is a snail hero who longs to be a racer from a rodent who longs to be a chef ("Ratatouille") or building up to a big auto race set in Indianapolis from one set in Radiator Springs ("Cars")? Near the end, there's even a brief nod to "Transformers."
Also read: 'Pacific Rim' Review: There Be Monsters in Here Somewhere
Mostly, "Turbo" feels dutiful. It's going where plenty of other animated family films have gone before, without any particular verbal or visual inventiveness. Making its hero a snail is by far its most audacious move.
But let's not focus just on the negative. The movie deserves points for its inclusiveness (major supporting characters are Hispanic and Asian) and its message about pursuing one's dreams.
Also on the positive side, I have yet to hear of McDonald's or Burger King doing tie-in promotions with edible escargot offerings.
Merci for that.