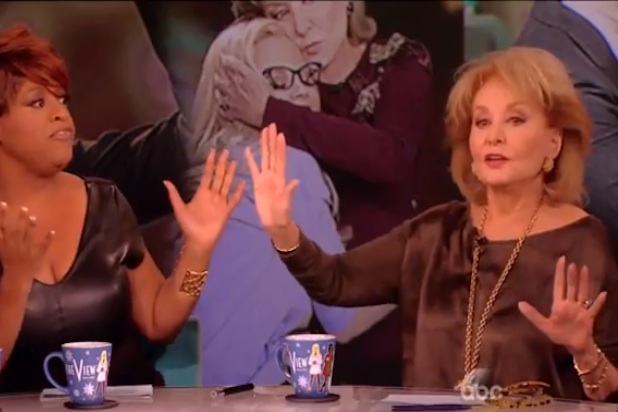 "View" co-hosts: Assemble!
For the first time, all 11 co-hosts of ABC's "The View" — past and present — will share the same stage, live, to bid adieu to the show's creator Barbara Walters. The reunion will take place on Thursday, May 15.
The following day, after more than five decades on the air, Walters will say farewell to daily television with her final co-host appearance on "The View." Walters, the last remaining co-host of the original panel of five women, will continue to be an active part of "The View" in her role as executive producer, along with executive producer Bill Geddie, her producing partner of more than 25 years.
See video: 'The View's' Jenny McCarthy, Sherri Shepherd Get Naked for Lena Dunham Segment
Meredith Vieira, Star Jones, Joy Behar, Debbie Matenopoulos, Lisa Ling, Rosie O'Donnell and Elisabeth Hasselbeck will join Sherri Shepherd, Jenny McCarthy, Whoopi Goldberg and Walters for the goodbye show.
"Barbara Walters' status as a trailblazer, a legend and an icon are undeniable," said Paul Lee, president of ABC Entertainment. "By creating a talk show panel with multiple hosts she changed the daytime landscape with a concept that is now widely emulated. It's a true testament to her legacy. We are grateful to her and recognize her enormous contribution to ABC Entertainment and the indelible mark she has left on television."
See video: 'The View' Debates Whether Lena Dunham Is a Comedian After Controversial Molestation Joke
Last May, Walters said that the show's 17th season would be her last. Since then, "The View" has been celebrating Walters' career by highlighting her most famous interviews with the ongoing series, "The Year of Barbara."
The ABC talker will commemorate Walters' final week with "ABC: A Barbara Celebration" featuring surprise guests, dedicated segments, and retrospectives of Walters' life.