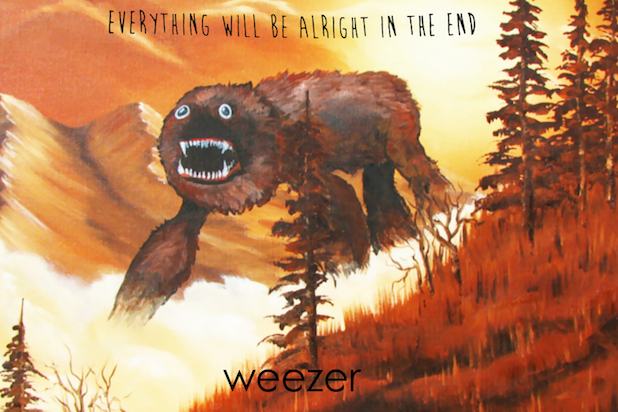 If Weezer fans love the 1994 "Blue" album track "In the Garage," then they should flock to purchase the band's new album, because it's a magnificent return to the melodic garage rock that catapulted them to stardom in the grunge era.
"Everything Will Be Alright in the End," Weezer's 10th studio album, is another collection of distorted guitar ballads that does not require a listener to skip past tracks to find the best, because they're all potential fan favorites.
See photos: The Top 40 Best and Worst Actors Playing Musicians Before 'Get On Up' (Photos)
And for many fans of the band best known for '90s hits "Buddy Holly" and "Say It Ain't So," as well as 2001 hit "Hash Pipe" and 2008's "Pork and Beans," their latest 13-song offering is a long time coming.
While Weezer has sold over 17 million albums worldwide throughout their impressive 20 year career, the band — led by rhythm guitarist and singer Rivers Cuomo — has been heavily criticized for abandoning the sound that made their debut a classic ranked no. 35 in Rolling Stone's "100 Best Debut Albums of All Time."
Also read: Fox Orders Comedy Pilot Based on Weezer's Rivers Cuomo
Despite Weezer's impressive collection of popular radio singles, fans have complained that the band experimented with their sound for unfavorable results, and in some instances, veered too far into pop music territory. Perhaps one of their biggest hits, "Beverly Hills," is a fine example, along with Lil' Wayne collaboration "Can't Stop Partying."
Well, if Weezer never produces another album again, everything truly is alright in the end, because this Republic Records release should satisfy all those craving for the past to blast to the present.
Also read: Former Weezer Bassist Mikey Welsh Dies of Suspected Drug Overdose
"Everything Is Alright in the End" kicks off with "Ain't Got Nobody," a potential single ripe with heavy drums, distortion, dirty solos and a catchy chorus that will keep those who love to sing along busy when the tune blasts through the car speakers.
The band — consisting of lead guitarist Brian Bell, drummer Patrick Wilson, and bassist Scott Shriner –polled listeners to choose the second single off the album, and "Go Away" is also in the running. It's the only track on that embraces the type of pop rock that turned off some fans in the past.
Also read: Weezer, Robbie Williams, Brad Paisley Rock 'Cars 2'
Still, the duet with Best Coast's Bethany Cosentino has enough crunch (not to mention the reminiscent sound of "Blue Album" b-side "Suzanne") that it should appeal to both rock and pop radio listeners. Weezer fans who won't accept anything but "Blue" and "Pinkerton," however, will most definitely prefer the public to be exposed to "Ain't Got Nobody."
Cuomo is no stranger to writing self-referential music, whether singing about the band's early touring days in "Memories," his frustration with his record label in "Pork and Beans" or his musical influences in "Red Album" track "Heart Songs," and continues to do so in multiple tracks on "Everything Will Be Alright in the End."
Also read: Weezer's Cuomo Remains Hospitalized After Bus Crash
The current single, "Back to the Shack," seems to be the musical embodiment of Cuomo's concentrated efforts to write more songs like those populating "The Blue Album."
Take the chorus: "Take me back/back to the shack/back to the strap with the lightning strike/kick in the door/more hardcore/rocking out like it's '94/lets turn up the radio/turn off those stupid singing shows/I know where we need to go/back to the shack."
Also read: 'School of Rock' Nickelodeon Series Finds Jack Black Replacement
On the album's fifth track, "I've Had It Up to Here," Cuomo seems to be singing directly to those fans that have criticized, or lost faith in the band over the years. But whether he's telling them he doesn't care about their opinion, or maybe that he agrees with it is anyone's guess.
"I tried to give my best to you/but you plugged up your ears/and now I just can't take no more/I've had it up to here," Cuomo sings in the chorus to the song venting his frustration over sacrificing art for "universal appeal.
"Oh, if you think I need approval/from a faceless drone/that's where you're wrong," he continues in the bridge.
Also read: Feuding With a Pop Star, Dateless, Worried About Wiretaps: 7 Taylor Swift Ramblings From Rolling Stone
The rest of the lyrics suggest that the "faceless drone" in question could be either a record executive, or one of the millions of consumers the band's label wants to sell music to.
"Da Vinci" — reminiscent of "Pinkerton" track "El Scorcho" — and "Cleopatra" are easily two of the catchiest tunes on the album. They demonstrate some of the band's best writing in years, as well as the album's production value that is as equally polished, as it is pleasantly dirty, much like the garage Cuomo sang so fondly about in 1994.
Also read: Rose McGowan on Why Rolling Stone Drove Her From Hollywood, Directorial Debut: I'm Done Selling My Sexuality
The "Blue Album" concluded with a rock crescendo called "Only in Dreams," and "Everything Will Be Alright in the End" ends in a similar fashion with "The Futurescope Trilogy" — three connected tracks that play as one giant ballad full of the band's signature hooks, roaring solos, beating drums and even a callback to the thumping bass line that plays throughout "Only in Dreams."
"Everything Will Be Alright in the End" is sure to go down amongst fans as the band's best work in recent memory, if not of their entire career.
Here's the music video for "Back to the Shack":