The media has given Netflix a full-body massage for the past week, a reward for the streaming service's 14 Emmy nominations in its first year making original shows.
The company then released strong earnings figures on Monday, revealing that it now has almost 30 million streaming subscribers in the United States and will soon top 40 million globally.
However, investors did not respond well to the company's report, sending the stock down in after hours trading. It is down another four percent today.
Most have blamed the subscriber figures, which were below what some analysts had estimated. Yet the slumping stock price didn't faze Netflix, which gave analysts and reporters a glimpse at its limitless ambitions during an earnings call with Chief Content Officer Ted Sarandos and CEO Reed Hastings — conducted via Google Hangout (and moderated by BTIG analyst Rich Greenfield and CNBC reporter Julia Boorstin).
Also read: Netflix Tops Analyst Expectations, Nears 30M U.S. Subscribers
Here's what we learned:
Netflix Wants to Beat HBO Faster Than Anyone Thought It Could
Ever since Netflix began funding and producing shows of its own, it has billed itself as the next HBO — only better. Both of them offer large libraries of movies, and widely lauded TV shows. HBO got eight times as many Emmy nominations, but this was Netflix's first time in the game.
Netflix's ambitions on the original content side continue to grow. For one, it expects all of its new shows to run at least four or five seasons. "Arrested Development" was already a franchise, and it wants to turn shows like "House of Cards" and "Orange Is the New Black" into series of similar import as they progress to seasons two, three and four.
Netflix also disclosed that it will now make documentaries and stand-up specials, two areas HBO has excelled in.
Finally, Netflix said it wants to develop and own more of its own shows. Media Rights Capital developed and owned "House of Cards." Netflix bought the rights to distribute it first.
Hastings said that "at the start, it was smart to work with MRC" and other companies "with core competencies" in content production.
Now? They want to own it all.
Also read: Emmys: Netflix Crashes the Party as Voters Redefine TV
Netflix isn't raising prices — yet.
Analysts have long speculated that Netflix will have to charge more to keep paying for all of its movies and TV shows. Movie studios are charging more for the rights to their old films and making shows that look as good as "House of Cards" is pricey.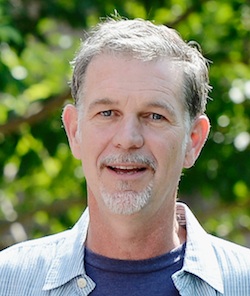 Yet Hastings insisted Netflix was content with its $7.99 a month sticker price.
"Once you've picked a price, there is tremendous value in consumer stability," Hastings said.
That sounds like someone who learned his lesson from the last time Netflix fiddled with its prices, prompting consumer outrage and sending its stock down.
With Netflix flying high, Hastings doesn't want to see that happen again, but that doesn't mean he thinks the $7.99 fee is perfect.
"I would say $7.99 is pretty close to the right price," Hastings said. Pretty close ain't perfect.
Stop Asking Netflix About Ratings.
Greenfield and Boorstin peppered Sarandos and Hastings about ratings for its original shows, which Netflix has declined to offer. They may have asked the same question 15 different ways.
Sarandos and Hastings didn't budge, and a certain point they just started to get annoyed – thank you Google Hangout. However, Sarandos did say that everyone of its originals is "drawing TV size audiences" and that they would not renew the shows unless their audiences justified the financial investment.
Take that needling reporters.
Netflix Wants to Expedite Its Global Expansion.
Expanding overseas has been a costly enterprise for Netflix, yet Hastings is not frightened by the financial hit to the company. While Netflix is still losing money overseas, those losses have dwindled.
It now boasts almost 8 million subscribers after growing its base by 155 percent over the past year.
Moreover, those subscribers are watching Netflix's original shows as eagerly as domestic customers, according to Sarandos.
Hastings said the company would continue to invest "all domestic profits in international expansion."
"We think that's very smart," Hastings said. "If you look at the international growth it's tremendous. There's a huge opportunity around the international audience."
Modesty? Nah.
Netflix has released five original shows in its history, but that didn't stop Hastings from referring to Sarandos as "God's gift to programming." Hastings was more diplomatic about competitors like Amazon and Hulu, predicting they would all make great shows.
Yet Netflix did little to hide its ambitions. Sarandos said he hoped that shows like "House of Cards" and "Hemock Grove" would turn "into Harry Potter-esque global phenomena" by the time they reached seasons three, four or five.
Sarandos spent the entire hangout with an Emmy visible behind him – an award the company won for its technology.