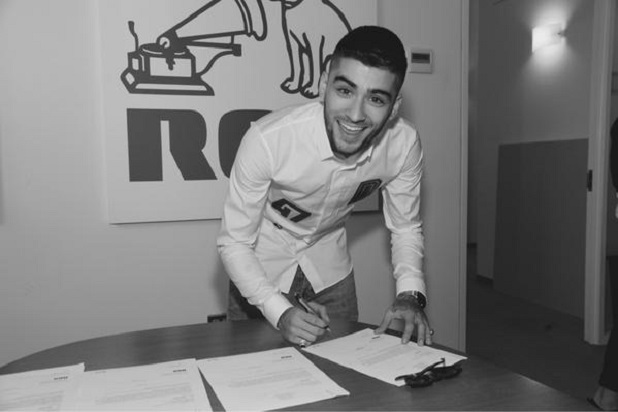 Watch out, One Direction — Zayn Malik is now officially a competitor.
Malik, who exited the British boy band in March, has signed to RCA Records as a solo artist.
The pop star dropped the news via Twitter on Wednesday, writing that he will now be able to show fans "who I really am!"
See video: One Direction Talks Life Without Zayn Malik, Plays Dodgeball in Short Shorts With James Corden
"I guess I never explained why I left, it was for this moment to be given the opportunity to show you who I really am!" Malik wrote.
In addition to hash-tagging the post #RCA, Malik included, in what may or may not be a reflection of his previous musical output, "#realmusic."
Malik included a photo of himself appearing to sign a contract in front of the RCA logo.
Also read: Harry Styles 'About to Leave' One Direction, Says Lance Bass
Notably, Malik won't be making his "real music" under the same label as his former bandmates, who are signed to Simon Cowell's Syco Records and Columbia Records in North America.
However, Cowell, whose "The X Factor" launched One Direction's career, did play a part in landing Malik a new home.
"We have been working on this for a while and I am pleased to say congratulations to @Zaynmalik on signing with @RCARecords," Cowell tweeted on Wednesday. "I believe they are the perfect label for @ZaynMalik's solo career and I am sure whatever they release together will be special."
— zaynmalik (@zaynmalik) July 29, 2015