"The Watch" ranks among career lows not only for its stars (including Ben Stiller, Vince Vaughn and Jonah Hill), writers (among them Seth Rogen and Evan Goldberg) and director (Akiva Schaffer, who gave us the underrated Andy Samberg vehicle "Hot Rod") but also for Costco, which plays a key role in the movie.
You were much funnier in "Idiocracy," Costco.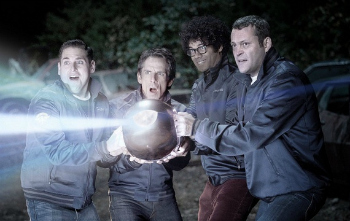 A laugh-deprived movie that's striking at a singularly bad time in the zeitgeist — after the Trayvon Martin shooting, the film's title stopped being "Neighborhood Watch" — "The Watch" feels half-hearted from all sides. One imagines some studio suit deciding that somewhere along the line, some rewrites or some on-set improv or some post-production could magically render this material amusing, but that alchemy never happened.
Stiller stars as Evan, a Costco manager in a small Ohio town who throws himself into local organizations and activities, much to the annoyance of his wife (Rosemarie DeWitt, mis-utilized) who would like him to spend more time at home trying to get her pregnant. After his night watchman is brutally murdered on the job, and the local police (Will Forte and Mel Rodriguez) seem unwilling to track down the killer, Evan decides to start a neighborhood watch group.
The only people who show up for the first meeting are Bob (Vince Vaughn), an affable husband and dad looking for some male bonding; the unstable Franklin (Jonah Hill), who's still bitter about having failed the police department's intelligence, physical and psychiatric evaluations; and the recently-divorced Jamarcus (Richard Ayoade of the hit UK sitcom "The IT Crowd").
No one takes these guys seriously, but their bumbling investigation reveals that there are aliens among them who must be stopped before they can stage a full-scale invasion. In other words, imagine "Attack the Block," only set in America. With a mostly middle-aged cast. And not funny. Or exciting.
"The Watch" is one of those movies where you can see the spaces where the punch lines are supposed to go, but for every one that elicits a slight chuckle (Franklin sees green slime at a murder scene and wonders if the victim recently won a Nickelodeon Kids' Choice Award), there are dozens that land with a tragic thud.
No one in the film does anything unexpected: Stiller does his Type-A nerd (and makes one long for Amy Poehler's Leslie Knope from "Parks and Recreation"), Vaughn plays the loud regular Joe, Hill gives us frenetic loser, Ayoade is the amiable dork, R. Lee Ermey pops up to play his millionth hardass, but rarely, if ever, are these people given something amusing to say or do.
Schaffer and his writers don't make the alien invasion funny or terrifying — "Battleship" made this plot more compelling, if you can believe it — so we're left with the most stultifyingly dull imminent destruction of humanity imaginable. Your own "Watch" is what you'll find yourself looking at more than the screen.