1. From the "too soon" department, Japanese company Hot Toys is releasing a "tribute" 12-inch Michael Jackson "T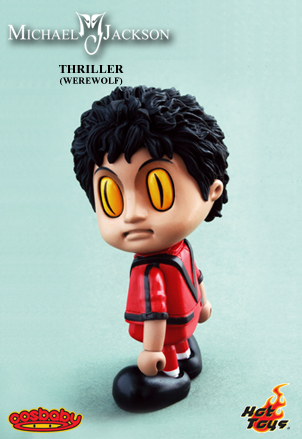 hriller" action figure … with interchangeable zombie head. Personally, I'm not too sure what was wrong with Hot Toys' original 3-inch "Cosbaby" version of the Michael Jackson Thriller.
2. "Harry Potter and the Sixth Movie: It's Two to Go Now?" has — so they tell me — made $456 billion at the global box office in the past 14 and a half minutes. That means, technically, I've already seen it, although I don't remember doing so. But hey, that's the power of magic, right? What I do know is the film's success will inspire more "Wizard Rock" — better known as "Wrock" — bands. I wish I were joking as much as I wish they didn't make jokes about "Wrocking and Rowling."
3. The zombies just keep on coming. Matthew Michael Carnahan is set to try his hand at adapting Max Brooks' best-selling docu-novel "World War Z" for director Marc Foster. If Carnahan's previous produced scripts, like "Lions for Lambs" and "State of Play" are any measure, these zombies might have brai
ns, rather than eat them. No chance of that in "Resident Evil 4," greenlit today, which will — guaranteed — be another slam-bam-thank-you-undead-ma'am installment from that unstoppable team of director Paul W.S. Anderson and Milla Jovovich. And this just in! Zombies have invaded Granite Falls, North Carolina! And the locals are loving it.
4. To celebrate next week's 40th anniversary of Apollo 11 landing on the moon — and to help forget the whole NASA-erases-tapes thing — rap along to "Rocket Experience" with Buzz Aldrin! In a video directed by McG!
5. Unholy guacamole! Bobby D. and Robby R., together at last? Bloody Disgusting is reporting that "Machete," the full-length feature version of the faux-trailer seen in "Grindhouse" two years back, is set to go before cameras on July 29 — and that Robert De Niro is set to
play "Senator McLaughlin" for Robert Rodriguez and co-director Ethan Maniquis. Rounding out the cast? Danny Trejo as the revenge-mad Mexican of the title, Jonah Hill and Michelle Rodriguez. This could be fun.
6. Talk about hitting one out of the park. Aussie actor Xavier Samuel, 25, has landed the role of "newborn vampire" Riley in "Eclipse," the third "Twilight" movie, just one week after touching down in L.A. to chase his dreams. "I guess there's something very intriguing about the notion of eternal love," Samuel said of vampires after getting the part, ensuring a million teen hearts start a-thumping. "And they're very sexual." Squeeeeaaaal! For fans wanting to know "who?" there's a bit Xavier action in this trailer for an upcoming Aussie indie "Further We Search."
7. Johnny Depp's next role will be … Carol Channing? "My dream role would be to play musical legend Carol Channing in a biopic of her life. I love her, I really do, she's amazing," he told the Mirror in the U.K. "With all the digital technology these days, I could probably pull it off!" Where does Depp get this stuff? And where can I get some?
8. Also from the "Aussie vampire files" is the intriguing trailer for "Daybreakers." Down Under horror tyros the Spiering Brothers, whose low-budget debut "Undead" was a fabulous calling card back in 2003, scored a dream cast — Ethan Hawke, Willem Dafoe, Isabel Lucas, Sam Neill — for their follow-up, which posits a world ruled by vampires where humans are hunted. It looks pretty good.
9. Ever wanted to recut "Star Wars"? No, me neither. But "Star Wars Uncut" is a crowd-sourcing project in which the original film is broken down into 472 15-second clips which users can then upload for the webmasters to stitch together into a new version. Confused? Me too. "Just imagine being able to watch 'Star Wars' a completely different way every you time you watch it," the site promises. Yes, it make a lot more sense if the Death Star blew up at the start.
10. "Fight Club" inspired 17-year-old New York teen to blow up a Manhattan Starbucks, police say. ""His statements indicated he was launching his own 'Project Mayhem,' " the police commissioner said Kyle Shaw, who, ignoring the first rule of Fight Club, told all of his friends, and seemingly passers-by, of his grand plans. But the spooky thing about this? Originally police thought his Starbucks attack was the latest in a string of such explosions, leaving me to wonder who's doing the other bombings and what are they watching? I'm saying these guys — "We have to make people afraid to go to Starbucks!" — have a lot to answer for.