In today's Callbacks — your daily roundup of casting news from Deal Central — WB and producer Jon Shestack 'beat the devil,' Disney meets its "Prom" dates, Universal asks Ben Schwartz "Would You Rather," the "Conan" writers schedule an appointment with "Dr. Strange," Luke Grimes 'waits' for Chloe Sevigny and Jena Malone, "Legally Blonde" co-writer Kirsten Smith thinks "Camp Rules" and "Primer" director Shane Carruth launches a website for his new movie "A Topiary."
Previously on Deal Central: Bruce Willis eyes a reunion with "Unbreakable" filmmaker M. Night Shyamalan and Patton Oswalt celebrates Christmas with "Harold & Kumar."
• Warner Bros. has rescued Carter the Great from the depths of development hell.
The studio is developing a big-screen adaptation of Glen David Gold's debut novel "Carter Beats the Devil" that Jon Shestack ("Air Force One") will produce, Shestack confirmed to TheWrap.
Michael Gilio will adapt the novel, which follows the exploits of real-life magician Carter the Great. The movie will reportedly focus on the magician's skills and ability to deceive his audience.
The film had previously been in development at Paramount, which optioned the property in 2002 for Tom Cruise and Paula Wagner to produce. Jon Berg will oversee the project for the studio.
Shestack is also developing a feature version of "Saved By the Bell" at Universal, but unfortunately, the project doesn't seem to be gaining much traction with studio execs, much to the dismay of Dennis Haskins' accountant. Deal Central still holds out hope that Zack, Kelly and the rest of the gang will reunite on the big screen sometime soon.
• "Friday Night Lights" regular Aimee Teegarden and "Gossip Girl" actress Yin Chang will be attending Disney's "Prom" with fellow cast members Thomas McDonell, Danielle Campbell, Nolan Sotillo, Jared Kusnitz, Nicholas Braun, Ben Esler, Kylie Bunbury and DeVaughn Nixon, according to Variety.
The high school comedy, which is said to be similar in tone to John Hughes' "Sixteen Candles" and "Pretty in Pink," follows a group of teens as they prepare for the big end-of-the-year dance.
The studio is hoping "Prom" could pull a "High School Musical" and launch new stars like Zac Efron and Vanessa Hudgens, who helped the Disney Channel movie become a major franchise.
Joe Nussbaum directs from a script by Katie Wech, while Ted Griffin and Justin Springer will produce the $5-10 million movie.
• Universal Pictures has acquired Ben Schwartz's comic pitch "Would You Rather," the studio has confirmed to TheWrap.
The project is based on an idea by Imagine Entertainment's Brian Grazer, who will also produce. Grazer and Schwartz have been working on the idea together for several months. Universal's Peter Cramer will oversee the project for the studio, which is keeping the logline under wraps.
Schwartz stars in J.J. Abrams' upcoming NBC series "Undercovers." He also wrote and will star in a segment on the second season of HBO's "Funny or Die Presents" titled "Terrible Decisions With Ben Schwartz." Schwartz won an Emmy last year for co-writing Hugh Jackman's exciting opening number at the 81st Academy Awards, so I have no doubt he'll add a few laughs to that largely unfunny cable program (seriously, Will Ferrell, is that the best you've got?).
He's represented by WME and Tom Sawyer Entertainment.
• "Conan" (calm down everyone, I'm talking about the Marcus Nispel movie, not the talk show host) writers Thomas Donnelly and Joshua Oppenheimer have been hired to write Marvel's "Dr. Strange," reports Deadline.
The comic book character is a self-centered New York surgeon robbed of his touch after a car accident. After a stint as a wandering derelict, he found his way to a healer in the Himalayas, where he learned to tap into psychic powers to battle evil wizards and other wrongdoers. Dr. Strange fights with his mind, as opposed to the mighty muscles that distinguish most of Marvel's superheroes.
Prominent filmmakers Wes Craven, David Goyer, Stephen Norrington and Guillermo del Toro were all attached to previous incarnations of the long-gestating project, which had been developed at production companies all over town before Marvel finally got the rights.
"Dr. Strange" will likely be among the first Marvel films generated under Disney, which paid $4 billion for Marvel and the rights to its 5000-character library.
Donnelly and Oppenheimer previously wrote a live-action adaptation of the videogame "Uncharted: Drake's Fortune" for Sony and producer Chuck Roven ("The Dark Knight"), as well as a draft of Jon Favreau's "Cowboys and Aliens" for DreamWorks and Universal. They're represented by Gersh and Underground.
• I really enjoyed Luke Grimes' swagger in the tragically-still-unreleased "All the Boys Love Mandy Lane," and now the 26-year-old actor has has been cast as the male lead in writer-director M. Blash's "The Wait," reports Variety.
Chloe Sevigny and Jena Malone star as two sisters who decide to keep their deceased mother in the house after receiving a call that she will come back to life. Let's hope it wasn't a wrong number …
Grimes will play a philosophical and enigmatic man (these character descriptions crack me up sometimes) who becomes smitten with Malone's character.
Neil Kopp and Ryan Crisman are producing the film, which begins principal photography this week in Portland, Oregon.
Both actresses previously starred in Blash's drama "Lying," while Grimes recently starred in Cam Archer's "Shit Year" and ABC's "Brothers and Sisters."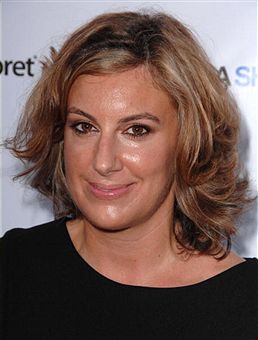 • "Legally Blonde" co-writer Kirsten "Kiwi" Smith will make her directorial debut with the Paramount comedy "Camp Rules," according to Variety.
Smith will write the script with journalist/novelist Deanna Kizis, based on the young adult novel by Jordan Roter, who originally adapted the book herself.
The novel chronicles the exploits of 16-year-old Penny Moore during her 8-week stint at a girl's camp in Maine.
Montecito Pictures' Ivan Reitman, Tom Pollack, Jeff Clifford and Ali Bell will produce with my former bosses Jason Blum ("Paranormal Activity") and Tracy Underwood.
Besides "Legally Blonde," Smith previously wrote "10 Things I Hate About You," "The House Bunny" and "The Ugly Truth" with her longtime writing partner Karen McCullah Lutz. The duo are currently adapting "Best Little Whorehouse in Texas" for Universal.
Additionally, Smith directed the short film "The Spleenectomy" starring Anna Faris and Ron Livingston. Glamour magazine financed the short, which caught the eye of Paramount president Adam Goodman, leading to the "Camp Rules" deal.
Kizis is the former West Coast editor of Elle magazine who has written several novels including "How to Meet Cute Boys." She is represented by Gersh and Seth Jaret, who also represents Smith along with Paradigm.
• And finally, io9 points out that "Primer" director Shane Carruth has registered a website for his new movie "A Topiary," which features a cryptic message: "Over and over you have been promised ADVENTURE but have not found it." I guess that means audiences are in for one trippy adventure, judging by Carruth's previous film.
Last year, "Brick" writer-director Rian Johnson tweeted that Carruth's sci-fi script was "mind-blowing" and encouraged fans to "pray to the movie-gods that he gets it made soon."
The film is apparently still in the early stages of pre-production and now The Playlist takes a peek at the "intriguing, unique and ambitious" script, comparing the pacing to Charlie Kaufman's "Synecdoche, New York."
The main plot follows ten boys (ages 7-11) living in a small rural town who are in possession of a mysterious black box called a "Maker," which fascinates the boys, who then create "seemingly sentient quasi-mechanical beings dubbed 'Choruses.' Wow! The intriguing story sounds just as hard to explain as "Primer." It's good to know that Carruth hasn't lost his touch over these six long years.