Ellen DeGeneres
During the fourth season of her sitcom "Ellen," DeGeneres appeared on "The Oprah Winfrey Show" to reveal she was a lesbian. Her character on the show, Ellen Morgan, also came out to a therapist played by Winfrey during that same season. In April 1997, DeGeneres said more about her sexuality in a cover story titled "Yep, I'm Gay" in Time magazine, which explained that "her all-pants wardrobe and sometimes awkward chemistry with male ingenues" on her show had provoked nationwide curiosity about her lifestyle. Now, DeGeneres has her own talk show which rivals Winfrey's and she was nominated for an Emmy Award for hosting the 79th Academy Awards in 2007.
Rosie O'Donnell
True to form, O'Donnell revealed her sexuality in February 2002 act at the Ovarian Cancer Research benefit at Caroline's Comedy Club. O'Donnell, who is a foster and adoptive mother, was interviewed by Diane Sawyer in March of that year on an episode of PrimeTime Thursday to further talk about being a lesbian and on Florida's ban on gay adoption. She went on to a stint as a co-host on the popular talk show "The View," and served as a producer and writer on a Lifetime movie, "America," which aired last February. She was just signed to a daily radio show on Sirius satellite network.
Lance Bass
Beginning in September 2005, celebrity gossip blogger Perez Hilton began posting items stating that the former N'Sync member was gay and dating "Amazing Race" winner Reichen Lehmkuhl. The speculation ramped up when photos of Bass at gay bars and nightclubs surfaced, and the boy-bander came out in People in July 2006. He said he kept his sexuality a secret for fear of jeopordizing N'Sync's popularity. He released an autobiography, "Out of Sync," a year later and then took third place on Season 7 of "Dancing With the Stars."
George Takei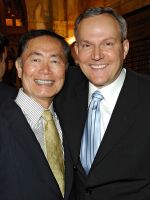 The actor, best known for playing Sulu on "Star Trek," revealed in an October 2005 issues of "Frontiers" magazine that he is gay and had been in a relationship with his partner, Brad Altman, for the last 18 years. The couple became one of the first to marry in California in September 2008. After coming out, Takei went on a nationwide "Equality Trek" tour to share stories about his life as a gay Japanese-American. He is now a spokesperson for the Human Rights Campaign "Coming Out Project."
T.R. Knight
Rumors about "Grey's Anatomy" actor Knight's sexuality began circulating after the actor's co-star Isaiah Washington allegedly directed an anti-gay slur at Knight. Washington was fired, and Knight confirmed to People in October 2006 that he is gay. Knight continued to play Dr. George O'Malley on the hit ABC drama (until the last episode of the 2009 season in which his character was killed off) — he'll next be seen in the musical "Parade" at L.A.'s Mark Taper Forum.
Neil Patrick Harris
When rumors surfaced online that the former teen star of "Doogie Howser, M.D." was involved with fellow actor David Burtka, Neil Patrick Harris chose to to come out to People Magazine in November 2006. The actor, who now stars in "How I Met Your Mother," attended the September 2007 Emmy Awards with Burtka. He recently hosted the 2009 Tony Awards and has been tabbed to host the upcoming Emmys.
Cynthia Nixon
After ending her 15-year relationship with Danny Mozes, the "Sex & the City" star began dating education activist Christine Marinoni in January 2004. In 2006, she told New York magazine that she didn't struggle with her sexuality — she had simply fallen in love with a woman. The couple announced they were engaged at a rally in support of same-sex marriage last month. In recent years, Nixon won the Tony Award for Best Actress in David Lindsay-Abaaire's "Rabbit Hole" and a Grammy Award for Best Spoken Word Album along with Beau Bridges and Blair Underwood for Al Gore's "An Inconvenient Truth."
Clay Aiken
After years of public speculation that the former "American Idol" contestant was gay, Aiken confirmed the rumor to People magazine in September 2008. Aiken said he made the decision to reveal the news after the August 2008 birth of his son Parker, who was conceived via in vitro fertilization with his best friend, music producer Jaymes Foster. That same month, he reprised his role as Sir Robin in the Tony Award-winning musical "Spamalot" in a four month stage stint.
Adam Lambert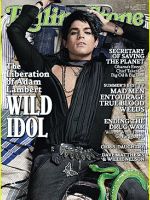 While competing on the last season of "American Idol," photos of contestant Lambert kissing a man circulated throughout the media. Lambert did not come out but confirmed the photographs were of him, issuing a statement which said he had always been open about his life. After the show concluded, Lambert confirmed he was gay on the cover of Rolling Stone, saying: "I don't think it should be a surprise for anyone to hear I'm gay … I'm proud of my sexuality. I embrace it. It's just another part of me." Since the show, Lambert landed a record deal with 19 Recordings, and RCA Records picked up the rights to his album.