See TheWrap's Complete Emmys 2011 Coverage
As TheWrap predicted, voters gave the best comedy and drama series honors to "Modern Family" and "Mad Men" at Sunday's 63rd annual Emmy Awards — but they also threw in some welcome upsets, especially by honoring the recently departed "Friday Night Lights."
Voters faced a dilemma this year: Should they honor continually achieving shows like "Modern Family" and "Mad Men," or look to bold new ones like "Boardwalk Empire" and "Game of Thrones"? Or look back on the little-watched but beloved "Friday Night Lights," which finished its run last season?
Also read: Complete List of Emmy Winners
They opted for an elegant combination by recognizing enduring shows and newcomers alike, with special recognition for "Lights."
"Modern Family" claimed five awards, including its second consecutive for Outstanding Comedy. "Mad Men"'s fourth consecutive win for Outstanding Drama was its only award of the night.
Hosted by Jane Lynch and produced by Mark Burnett, the telecast was one of the fastest, most fluid Emmys ceremonies in years, coming in exactly on time. Early on, it seemed like a predictable affair, with last year's best comedy winner, "Modern Family," claiming the first four awards. Then Jim Parsons won his second consecutive award for Outstanding Actor on a Comedy Series — the first award of the night for which "Modern Family wasn't nominated. It began to look even more like a night of safe choices.
But then things got interesting.
Also read: 'Modern Family' Sweeps Emmys; 'Mad Men' Limps Along to Win Best Drama
Newcomer Melissa McCarthy, hot off stealing the summer hit "Bridesmaids," scored a major coup with her win for Outstanding Actress on a Comedy Series for her first season on "Mike and Molly." She beat previous winners Tina Fey and Edie Falco.
Her win started a run of upsets: "Friday Night Lights" won two big awards, with Jason Katims taking Outstanding Writing for a Dramatic Series and Kyle Chandler scoring Outstanding Lead Actor in a Drama Series. (He bested Jon Hamm, who seemed a sure thing for "Mad Men" with three-time consecutive winner Bryan Cranston ineligible for "Breaking Bad" this year.)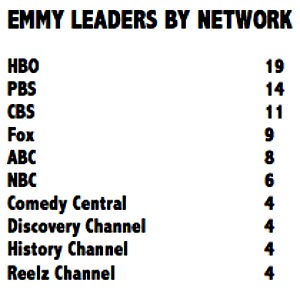 The "Lights" wins were a way of recognizing all five seasons of the acclaimed NBC series, which avoided cancellation with a unique arrangement in which episodes also aired on DirecTV.
"Mildred Pierce" had seemed seemed likely to dominate its categories, given that the HBO miniseries was the most nominated program overall with 21 nods. But it was bested again and again by PBS's "Downton Abbey."
Though Kate Winslet won for Best Actress, and Guy Pearce for Outstanding Supporting Actor in the movie or miniseries category, "Abbey" scored elsewhere.
It won Outstanding Miniseries or Movie, while Julian Fellowes won for Outstanding Writing, Maggie Smith won for Outstanding Supporting Actress, and Brian Percival won for Outstanding Directing in the miniseries or movie arena. "Downton Abbey" was nominated for 11 Emmys.
Some wins were much more expected.
Juliana Margulies, as widely predicted, scored Outstanding Lead Actress in a Drama Series for "The Good Wife." Voters recognized the bold new "Game of Thrones" by recognizing the scenery-devouring Peter Dinklage as the Outstanding Supporting Actor in a Drama Series.
Margo Martindale won Outstanding Supporting Actress in a Drama for FX's "Justified" — not the biggest surprise given the buzz for her performance in the wide-open category.
Martin Scorsese won for Outstanding Directing for a Drama Series, "Boardwalk Empire," which was nominated for 18 awards. It also cleaned up at last weekend's Creative Arts Emmys.
After losing last year for the first time in the category's history to "Top Chef," CBS's "The Amazing Race" again claimed the Emmy for Outstanding Reality Competition.
And in an almost obligatory win, "The Daily Show With Jon Stewart" scored its ninth consecutive Emmy for Outstanding Variety, Musical or Comedy Series" — an award that may need to be renamed in its honor.
The comedy awards for "Modern Family" included Outstanding Supporting Actress for Julie Bowen, Outstanding Supporting Actor for Ty Burrell, Outstanding Directing for Michael Spiller, and Outstanding Writing for Jeffrey Richman and show co-creator Steve Levitan.
Burrell's win was especially impressive for the show because he won out over three other "Modern Family" nominees. He beat last year's winner, his castmate Eric Stonestreet, and had campaigned for Ed O'Neill to be nominated.
In a show of unity, all the actors and actresses in the show submit themselves in the supporting categories rather than duke it out over which of them are considered the leads.