Jimmy Kimmel took a very brief break from making fun of Donald Trump on his show Monday night, instead opting to take aim at his wife, Melania — for a moment, anyway.
I call the break brief because Kimmel sandwiched the Melania part with jokes about Donald, and even included a few bonus shots in the middle. But Melania did get her moment during Kimmel's monologue.
"Today, on the day after Easter, they had the 140th annual Easter Egg Roll. This has been going on since 1878 when Rutherford B. Hayes was president. This year was different, though. Trump heard 'egg roll' and promised to make the Chinese pay for it. He blew the whistle, and it was a fun day for the president — he got to eat chocolate. He even met a nice kid named Barron who he really liked. " Kimmel said, slipping in a joke about Trump being a bad father who neglects his youngest son.
Also Read: Jimmy Kimmel on Trump Typos: 'He Won't Be Swayed by a Bunch of Left-Wing Liberal Dictionaries' (Video)
"This event is officially hosted by the first lady every year — in this case, Melania Trump is the first lady, who joined the president on the balcony to get things going."
Kimmel then cued a clip of Donald Trump giving Melania credit for the "incredible job" she did putting the festivities together.
"Not a chance she did one thing to help set that up," Kimmel joked. "The only thing she's been working on is an escape tunnel."
Also Read: Seth Meyers Clowns Trump For Delivering Weird Political Speech to Kids at Easter Egg Roll (Video)
As promised, Kimmel then went back to Donald, using an altered version of Donald Trump's speech from the event in which a woman wearing a nightie walked out behind the Trumps, shocked to discover it was not just a normal morning after a sleepover in Donald Trump's bedroom.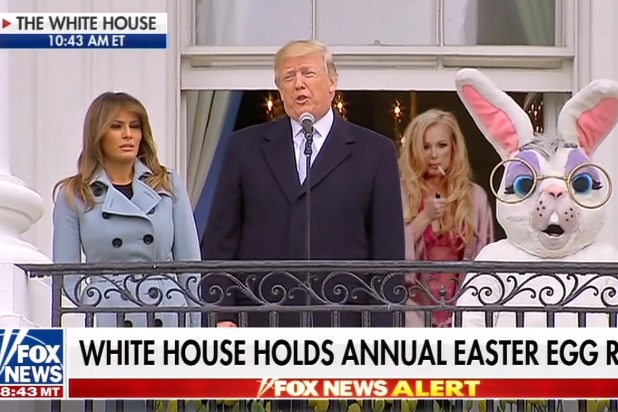 "No White House Easter celebration would be complete without story time from our first lady," Kimmel said, transitioning to a bit about Melania reading a children's book to the kids who had come to the event for the annual egg hunt.
"Never stop exploring, because life would be boring. Be clever and curious, just like a cat. Ask lots of questions about this and that," Melania read, with Kimmel taking particular interest in her pronunciation of "this and that," which came out like "dees and dat."
Also Read: Jimmy Kimmel: 'Trump Goes Through Cabinet Members Like He Goes Through Cheeseburgers and Aqua Net' (Video)
"About dees and dat. Guillermo, you realize what this means?" Kimmel said, addressing his sidekick Guillermo Rodriguez. "You could be first lady of the United States.
After another clip of Melania reading the book, he transitioned back to making fun of Donald.
"The president officially declared the month of April to be National Sexual Assault Awareness and Prevention Month. At this point he's just messing with us, right? He might as well declare it National Bankrupt Casino Awareness Month," Kimmel joked, referencing….well, you get the joke.