Federal Bankruptcy Court Judge Barry Russell has told embattled film financier David Bergstein that he needs to start cooperating with his court appointed trustee or he will be held in contempt, according to an individual who witnessed the hearing in Los Angeles.
Judge Russell said on Tuesday he sensed that Bergstein, his bookkeeper, and his erstwhile business partner Ronald Tutor were "stonewalling" interim trustee Ronald Durkin's efforts to unspool the tangled finances of five companies controlled by Bergstein.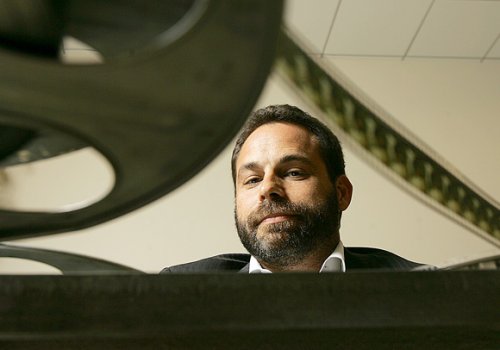 Judge Russell warned of dire legal consequence should Bergstein and his associates fail to give Durkin access to their financial records immediately.
"[I] can't make anyone do anything, but [I] can make them awfully sorry that they didn't," Russell told Bergstein.
Bergstein (photo at left by Los Angeles Times) and Tutor were also ordered to give depositions under oath and to allow Durkin and his team to access and copy their business and personal computers.
Bergstein is currently being sued by nearly 30 creditors – including advertisers, publicists and the Writers Guild West – in an attempt to force the film financier into Chapter 11. In March, Judge Russell took the extremely rare move of appointing a trustee to take over the operations of Bergstein's constellation of companies. Durkin, a former FBI agent who owns an L.A. based firm that investigates white collar fraud, was named to the post in April.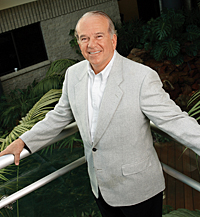 Linking Bergstein and Tutor (photo at right) together in a court of law could not come at a worse time for the billionaire investor. Earlier this month, Tutor won his bid to buy Miramax Studios for $675 million from Disney, along with Bergstein and their partners Colony Capital and Morgan Creek. But since that sale was announced, Tutor has made attempts to distance himself from the controversial film financier, including a now-disputed interview with the Hollywood Reporter in which he suggested that the radioactive Bergstein would play a limited role in the new company.
Durkin was represented by his attorney Leonard Gumport. Bergstein and Tutor's various business interests were represented by three attorneys.
Bergstein however did not have representation of his own nor did he appear at the hearing.
That left him with little ability to contest the court ordered date of Aug. 3, 2010, when he scheduled to give his deposition. Judge Russell said there would be no negotiation on that date, and that Bergstein would have to show up at the examination or "suffer the consequences." He then advised Bergstein to get counsel.
Gumport told the court Tutor and his counsel were not cooperating with the investigation. He disputed Tutor's claims that he was kept in the dark about Bergstein's operations, arguing that he was a 50 percent co-owner of "this empire" until January 29, 2009, at which point he sold his interest to Bergstein for $10.
"It is inconceivable that Tutor knows nothing," Gumport said.
Garfinkle, on behalf of Tutor, objected to the examination of his client by the trustee, because Tutor relinquished his ownership stake. He also said that Tutor was a busy man with many other interests.
Judge Russell, however, said that Tutor must submit to an examination on July 30, 2010.
When Tutor's attorney said he wasn't sure if the business mogul was available on that date, Judge Russell was unmoved and maintained that he should have known his client's availability before the start of the hearing.
Jeffrey Garfinkle, representing Pangea Media and Ronald N. Tutor, Library Acquisition Co., Ltd., said that the businesses should not have to produce the records that Durkin was requesting, because the two companies are not among the five Bergstein companies that owe millions of dollars. He said that the scope of Durkin's requests for all of Pangea's business records was overly broad and need to be narrowed.
Judge Russell disagreed with Garfinkle's argument, stating that he was making the "same types of quibbles" as Bergstein had made in denying Durkin access to his records. He said that the records need to be provided to the trustee because he needs to find out where the "huge amounts of money are going."
At the close of the hearing Judge Russell asked the lawyers when they were ready to go to trial, but did not receive a definitive answer. He was told, however, that the creditors attorneys believed that the trial would take two to three days for each individual creditor.
Durkin's examination of Bergstein, Tutor and the five film companies is scheduled to end on Oct. 1. All sides are due back in court for a status conference on Oct. 6.