Michael (played by Michael Fuith) drives home from his office job with some groceries. Michael prepares dinner. Michael lets the young boy he's kidnapped out of the basement to eat and watch television. Michael takes the boy downstairs and closes the door. Michael washes up afterward.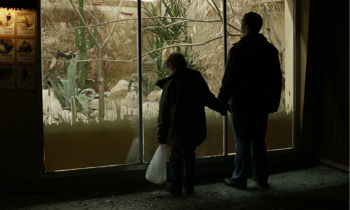 "Michael" examines the mundane existence of a blank-faced office drone who happens to be a pedophile and a kidnapper, and director Markus Schleinzer lets us get to know this monster in the least hysterical way possible. There's almost no music here, the camera never gets too close unless the on-screen activity is something like dish-washing or jigsaw-puzzle solving, and hardly anyone — including Michael's young victim (David Rauchenberger) — ever raises their voice.
Schleinzer's apparent point is to let the horror of the situation speak for itself. Who needs shrieking violins or cats jumping out of closets when you're dealing with the unremarkable guy next door who's perpetrating a ghastly crime?
We don't even get the obligatory scene of the police detectives coming around and asking questions; for all we know, the boy's face could be on a milk carton, or perhaps his parents have given him up for dead. And none of the scenes of Michael interacting with his mother or his sister provide any easy "aha!" moments that "explain" him.
What interests Schleinzer is putting us inside Michael's head, even though we're repelled by his activities, and his no-frills approach works. When Michael gets struck by a car early on and is required to stay overnight at the hospital, you find yourself wondering who's going to take care of the kid. And when Michael goes shopping for bunk beds, you get a sinking feeling in the pit of your stomach, realizing that Michael is going to be looking for a new boy to become his victim's roommate.
Schleinzer has worked with cinematic sadist Michael Haneke, and "Michael" often has that dispassionate portrayal of sociopathic behavior that is Haneke's specialty. But "Michael" also calls to mind Chantal Akerman's landmark film "Jeanne Dielman"; Akerman dwelled on the housework and the dinner preparations of its heroine as a way to portray her desperate circumstances, but for Schleinzer, Michael's quotidian tasks strip away the idea that only obviously monstrous people commit monstrous acts. That guy in the next cubicle, the film seems to be saying, could be harboring awful secrets.
"Michael" winds up being the kind of movie more noteworthy for what it doesn't do than for what it does — it often feels like Schleinzer could have made the same observations within a 30-minute short film — but for audiences willing to gaze into the abyss of human degradation, it's certainly food for thought.
Schleinzer may accentuate the banality of Hannah Arendt's famous phrase "the banality of evil," but the evil's still there all the same.