A pair of nominees might serve as hosts of the 83rd Academy Awards.
Could that be a problem?
"They've committed a casting taboo," an Academy member who works on Oscar campaigns told theWrap on Monday morning, after the announcement that James Franco and Anne Hathaway would host the February 27 show. "They're wrong-headed on this one."
Franco is an all-but-certain Best Actor nominee for his leading role in Danny Boyle's "127 Hours," while Hathaway is a longshot Best Actress contender for "Love and Other Drugs."
If the choice is seen by Oscar voters as giving the Academy's seal of approval to those two performers, and by extension their performances, it could bestow an edge to Franco and Hathaway in their races.
Academy president Tom Sherak, though, pointed out that the Oscars have been hosted by nominees seven times in the past, though not since 1987.
"It makes no difference to us," he said of the possibility that the hosts might be contending for Oscars. "It never really entered the conversation, and I don't see it having an effect on any voters."
"If both of them are nominated, good for them," he told theWrap on Monday. "And if one of them wins that night, we'll deal with it."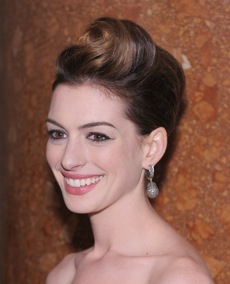 No Oscar nominee has served as host since screenplay nominee Paul Hogan was one of three hosts at the 59th Academy Awards in 1987. Other host/nominees include Glenn Close and Jeff Bridges in 1985, Walter Matthau in 1976, Michael Caine in 1973, David Niven in 1959 and Academy president Frank Capra, who hosted in 1939 and also won the Best Director prize. All except Capra served as co-hosts of shows that had between three and 10 hosts.
Last year's Oscar hosts, Steve Martin and Alec Baldwin, both starred in the movie "It's Complicated," which was considered a possible contender at the time that they were named hosts, but which ended up not figuring in the Oscar race.
"You could eliminate lots of people because they might be nominees," said Sherak. "You never know who's going to be nominated. I only know that we have two really glamorous people who have the ability to put on a show that we will all be proud of, and who fit into the framework of the show that Bruce Cohen and Don Mischer have laid out."
There's no question that Franco and Hathaway have the skills to pull off the gig – both have hosted "Saturday Night Live," which seems to have become the new testing ground for Oscar hosts – but the fact that at least one of the hosts will be in the thick of the race has raised eyebrows around Hollywood.
"I don't work with Colin Firth," said one consultant who represents potential nominees, "but if I did, I would be worried that Franco is going to get a lot of goodwill out of this."
Sherak admits that while the possible conflict did not enter into the conversation with producers Cohen and Mischer, the idea of attracting a younger viewing audience (and the young stars who attended the recent Governors Awards) did.
"We want young Hollywood to embrace our history and take it forward, so we can stay relevant," he said. "I think the two of them hosting says something exciting about our industry."
One of the writers of the Oscar show, Bruce Vilanch, told theWrap that he's similarly unconcerned about the appearance of favoritism – and similarly thrilled about the influx of new blood.
"I'm very excited," 22-year Oscar vet Vilanch said. "It gives the show a whole different energy, much as when Hugh Jackman hosted it. I've watched their 'SNL' gigs and they're funny and flexible. Plus I get to sit in a room with two of the most gorgeous people in the world.
"Shallow? Me?"