Dave Arneson, co-creator of the role-playing game Dungeons & Dragons, died after a two-year battle with cancer in St. Paul, Minnesota, his family said Thursday. He was 61.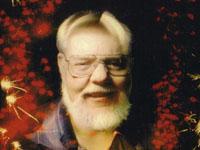 Arneson was a tabletop wargamer who enjoyed reenacting historical battles with miniature armies at the time he met his other Dungeons & Dragons creator Gary Gygax in 1969, according to Wizards of the Coast, a subsidiary of toymaker Hasbro Inc. that publishes the game.
Gygax and Arneson created the game five years later, and it soon became a hit amongst teenage boys and was turned into video games, books and movies. Players of Dungeons & Dragons create fictional characters who go on adventures that must confine to a strict set of rules.
"The biggest thing about my dad's world is he wanted people to have fun in life," his daughter Malia Weinhagen told The Associated Press. "I think we get distracted by the everyday things you have to do in life and we forget to enjoy life and have fun. But my dad never did. He just wanted people to have fun."
Arneson published other role-playing games and launched his own game-publishing company and computer game company in later years. He was inducted into the Academy of Adventure Gaming Arts and Design Hall of Fame in 1984. He also taught game design classes at Full Sail University in Winter Park, Fla., in recent years.
He is survived by Weinhagen and two grandchildren. A public memorial service is planned from 4 to 8 p.m. on April 20 at Bradshaw Funeral Home in St. Paul.