NBC vice president of drama programming Nora O'Brien collapsed and died Wednesday night on the set of the NBC pilot "Parenthood."
Her death was due to a brain aneurysm. She was 44.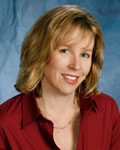 O'Brien had been VP original programming for four years at the SciFi channel, where she worked on hits like "Stargate" and "Stargate Atlantis." In January 2008 she was tapped to run drama programming for Universal Media Studios, then moved over to NBC when the two companies mered in December.
At NBC, she worked on series such as "Kings," "The Bionic Woman" and the upcoming "The Philanthropist."
Prior to the Sci Fi channel, O'Brien head development and current programming for Trilogy Entertainment Group and before that worked on the production of feature films including including "School Ties," "Sliver," "Clear and Present Danger," "Outbreak" and "Starship Troopers" for Reunion Productions.
Following her death, NBC postponed work on "Parenthood," which stars Peter Krause and Maura Tierney, and canceled pilot screenings scheduled for Thursday.