Ballots are now in the hands (and on the screens) of Oscar voters, and final choices must be locked in by the end of the day Tuesday. That means that nominees and their campaigners have only a few days to make a final impression, a key part of any Oscars campaign.
As usual, some films are sticking with the strategy that got them this far, while others are pivoting to take advantage of their strengths or capitalize on an opponent's weaknesses.
Who'll seal the deal? We've taken a look at print and online Oscars ads as well as billboards placed conspicuously around Los Angeles, and these are our thoughts on the closing arguments that voters are hearing from some of the contenders in the Best Picture, Best Animated Feature and Best Documentary Feature categories.
Also Read: No, Rin Tin Tin Didn't Really Win the First Best Actor Oscar
BEST PICTURE
"La La Land"
Message: We don't need words. You know what to do.
The latest and boldest ad taken out for Lionsgate's front-runner is a billboard on the Sunset Strip that doesn't contain a single word of text. Instead, it's an image we haven't seen before, of Ryan Gosling and Emma Stone looking out at the lights of Los Angeles after the end of their "A Lovely Night" dance routine.
That scene produced the Ryan-and-Emma-dancing image that has been used incessantly during the entire Oscars campaign, and the general-release campaign as well; this new photo knows we're intimately familiar with that other one, and can now transition to the aftermath, the endgame. It's a gentle reminder of a much-loved movie that is almost certain to win a lot of Oscars, and an acknowledgement that voters don't really need any persuading.
And the city vista on which they're gazing says something else that could be important to a body of voters based predominantly in Southern California: This is Los Angeles' movie. If you live in the hills above the Strip, you might even be able to look past the billboard at a vista of real L.A. lights to drive that point home — but for cars driving by, sadly, the view is merely of a billboard perched above a liquor store and the Viper Room. A less glamorous "City of Stars," perhaps.
Also Read: Oscars: Why 'La La Land' Deserves to Win Best Picture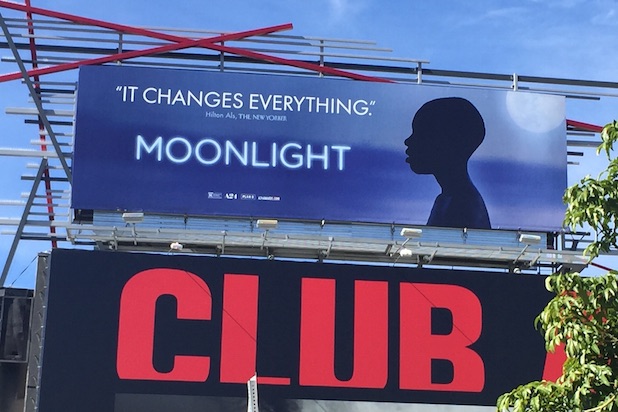 "Moonlight"
Message: We're a landmark.
"Moonlight" could pick and choose the critics' quotes it puts on its ads, but A24 has also chosen to go minimalist in the final stages of the campaign. The indie company's billboards — one in the same block of Sunset as the "La La Land" billboard, another a couple of blocks further west — sport a striking image of young actor Alex Hibbert, along with a single quote from the New Yorker: "It Changes Everything."
In other words: If you want the breakthrough movie, we're the one. Forget about the fact that "Moonlight" is the clear critics' choice this year — the campaign is appealing to voters who want to choose not the dazzling film that they feel good about now, but the important film that'll make the Oscars look good in the future.
That's the key to an upset victory, and the ads are working hard to position "Moonlight" as that film.
Also Read: Oscars: Why 'Moonlight' Deserves to Win Best Picture
"Manchester by the Sea"
Message: Words count.
Amazon and Roadside haven't changed their campaign significantly on behalf of Kenneth Lonergan's wrenching drama "Manchester by the Sea." The ads still feature moody stills from the film, and they're still rife with critics' quotes lauding the movie, Lonergan and stars Casey Affleck, Michelle Williams and Lucas Hedges.
In the home stretch, though, a few notable ads are targeted to the two categories in which the film has the best chance of winning. A billboard near Sunset and Fairfax says, "KENNETH LONERGAN BEST ORIGINAL SCREENPLAY" across the top, and is full of quotes about the screenplay; another billboard and some recent print ads were devoted to praise for Best Actor nominee Casey Affleck.
Also Read: Oscars: Why 'Manchester by the Sea' Deserves to Win Best Picture
"Lion"
Message: No, we're the important movie.
"Lion" is currently the beneficiary of the typical Weinstein Company phase-two campaign, which in recent years has played up the social significance of "The King's Speech," "Silver Linings Playbook," "Philomena" and "The Imitation Game" in the days leading up to the Oscars.
To that end, recent ads have dispensed with quotes from film critics, and instead used endorsements from the likes of Gloria Steinem ("It's a special gift now that we are being told to isolate ourselves"), former Secretary of State Madeline Albright ("as a refugee, an immigrant and a mother, 'Lion' resonated deeply with me"), author Salman Rushdie ("It moved me deeply") and political analyst Mark Halperin ("a timeless film about family, identity and humanity in the 21st century").
Also Read: 'Lion' Review: Dev Patel Stars in Well-Intentioned Awards Bait
"Hidden Figures"
Message: We're not just a crowd-pleaser.
The most commercially successful of the Best Picture nominees doesn't need to burnish its credentials as a hit — it just need to say that it's more than just a commercial film.
To that end, the central quote in its final ad campaign comes from AwardsDaily's Sasha Stone, who wrote, "'Hidden Figures' is a film to be proud of, to celebrate, and yes, to award."
In other words: Yes, we know you loved it. Now don't be afraid to vote for it.
Also Read: Oscars: Why 'Hidden Figures' Deserves to Win Best Picture
BEST DOCUMENTARY FEATURE
"13th"
Message: We're an actual movie.
This one takes the prize for the most pointed tagline of any phase-two campaign: "200 Years, 100 Minutes." That's because the category favorite, and the chief competitor to Ava DuVernay's "13th," is "O.J.: Made in America." That film is a whopping seven hours and 47 minutes long, and has prompted some grumbling about its genesis as a multi-part film for ESPN's "30 for 30" TV series.
The implication in the "200 years, 100 minutes" line couldn't be clearer: We're an important film about race in America, too, but we don't need to go to miniseries length to get our point across.
"O.J.: Made in America"
Message: Get on the winning team.
"O.J.," on the other hand, doesn't need to defend its placement in this category.
So it can sit back and point out that it's won almost all the precursor awards — DGA, PGA, IDA, ACE Eddies — and bank on the fact that everybody, including voters at the Oscars, loves a winner.
Also Read: 'OJ: Made in America': The 5 Biggest Shockers (Photos)
BEST ANIMATED FEATURE
"Zootopia"
Message: We're the timely, smart, issue-oriented animated feature.
In an unexpectedly competitive Best Animated Feature race, Disney's "Zootopia" is the one animated film that can also play the timely-and-important card.
A recent ad does that not just with a sly nod to current events — "For Your Consideration for the Popular Vote" — but with a quote that praises the way it deals with the issue of bias, and says its look at fear-mongering "was supposed to be a warning but turned out to be a prophecy."
"Kubo and the Two Strings"
Message: We've got more heart.
The biggest rival to "Zootopia" is Laika's "Kubo and the Two Strings," which picked up additional heat when it won the BAFTA award.
Its endgame is to focus on the handmade aspect of stop-motion filmmaking, and to emphasize the idea that while "Zootopia" might be the movie with more timely political points to make, "Kubo" is the emotional one.
Hence the main phase-two tagline in its Oscars campaign: "Choose Heart. Choose 'Kubo.'"
"Moana"
Message: Didn't you just love "Hamilton?"
Walt Disney Animation knows that "Zootopia" is the studio's best shot to win, so the latest ads for its other Best Animated Feature contender focus on the other category in which it's nominated, Best Original Song.
Yes, "La La Land" is the prohibitive favorite in that category — but just in cast that film's two nominated songs split the vote, "Moana" has an ace in the hole in the universally loved toast of Broadway, "Hamilton" create Lin-Manuel Miranda, who is an Oscar shy of the EGOT.
So the ads not only list the film's song nomination above its animated-feature nod, but they insert a photo of Miranda himself. That headshot plopped into an animated ad might not look good, but it's a way to remind Academy members about the guy they'd be voting for, since ballots for the Oscars only list the song and movie titles, not the songwriters.