Of the many high-profile documentaries coming to the Toronto International Film Festival this year – a list that includes work from such acclaimed filmmakers as Werner Herzog, Errol Morris, Alex Gibney and Frederick Wiseman – the only one receiving a full-scale, star-studded gala premiere is the one that might well have never been shown in theaters.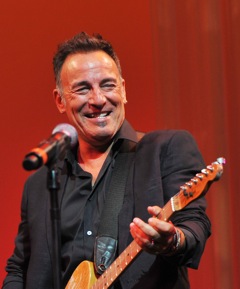 In fact, "The Promise: The Making of 'Darkness on the Edge of Town,'" the Thom Zimny documentary that details the lengthy process of creating the 1978 Bruce Springsteen album, began its life as material for a bonus disc to be included in a proposed deluxe edition of the album.
But somewhere along the way, an extra turned into a main attraction, with a Toronto gala and a TV premiere on HBO in October.
"I heard whispers about it a couple of years ago, and then in the spring I got a call asking if I'd like to come down to a screening room in New York and take a look," Thom Powers, who programs documentaries for TIFF, told theWrap.
"It's a really serious film about the creative process, not a sex-and-drugs-and-rock-and-roll movie."
This is not the first recent music documentary to receive a splashy festival premiere. "Stones in Exile," an hour-long doc about the making of the Rolling Stones album "Exile on Main Street," screened at the Cannes Film Festival in May before going to DVD, where it has been near the top of Amazon's music DVD charts for more than 100 days.
The documentary "Rush: Beyond the Lighted Stage," which looks at the Canadian hard-rock trio, premiered at the Tribeca Film Festival in April and currently tops the same Amazon chart.
Powers said the film is similar in some ways to "Wings for Wheels: The Making of 'Born to Run,'" a Zimny documentary about the making of Springsteen's 1975 album, which was included as a bonus disc in a 2005 30th anniversary reissue of "Born to Run."
"It draws upon extensive contemporary interviews, like that one did," he said, "but this one also has a couple of distinctions. It draws from a rich store of footage shot in Springsteen's home and studio during the making of 'Darkness,' and also uses original audio work tapes that have never been released before.
"There are scenes of Bruce and Steve Van Zandt improvising a song, with Bruce on keyboards and Steve Van Zandt sitting on the floor beating on the rug with drumsticks."
Among Springsteen fans, talk of a "Darkness" box set has circulated for years, with many expecting that it would include a behind-the-scenes documentary from Zimny, who has worked closely with Springsteen for years.
"It's certainly been talked about in fan circles, going back a few years when we heard about a few people who were being interviewed for a 'Darkness' documentary," Chris Phillips, editor of the Springsteen magazine Backstreets and Backstreets.com, told theWrap in an email.
Fans, he said, assumed that the footage would be used in a documentary like the one that Zimny put together for "Born to Run." "That said, the Toronto announcement was the first word we got that it was finished, what the title was, confirming Zimny as director, etc."
Zimny's "Born to Run" film was not released theatrically or shown on HBO. It won a Grammy for Best Long Form Music Video in 2007.
"The Promise" will screen as a gala at Toronto, something that Powers said has only happened with three documentaries in the 35-year history of the festival.
"It has to be a great film, and it has to have enough of an interest level to fill a 2,000-seat theater," he said.
He laughed. "For this one, I think we could use a 20,000-seat theater. I don't think any other film has caused more people to come out of the woodwork and remind me what good friends we are."
Speculation (as-yet unconfirmed) in the Toronto Star and elsewhere is that Springsteen, a producer of the documentary, will appear at the gala to introduce the film.
"Darkness on the Edge of Town," which contains the Springsteen classics "Badlands," "The Promised Land" and "Racing in the Streets," was not released until three years after Springsteen's breakthrough with "Born to Run." Part of the delay was due to a lawsuit in which the singer attempted to free himself from his original manager, Mike Appel, and part to his famously painstaking habits in the recording studio.
Springsteen recorded more than 80 songs before selecting the final 10. Outtakes included the song that gives Zimny's film its title, "The Promise"; the song is a mournful sequel to Springsteen's "Thunder Road" and a song widely interpreted to have been inspired by his legal battles, though Springsteen has always denied it.
Zimny is better known as an editor than a director. His resume includes editing a dozen episodes of "The Wire," in addition to eight music-related projects, six of them with Springsteen.
He received two Emmy nominations for producing and editing the "Bruce Springsteen & the E Street Band" special in 2003, and won an Emmy for editing "Bruce Springsteen and the E Street Band: Live in New York City" in 2001.
As a director, his sole credits are "Wings for Wheels" and now "The Promise."
(Photos by Getty Images. Springsteen: Bobby Bank. Zimny: Frazer Harrison)