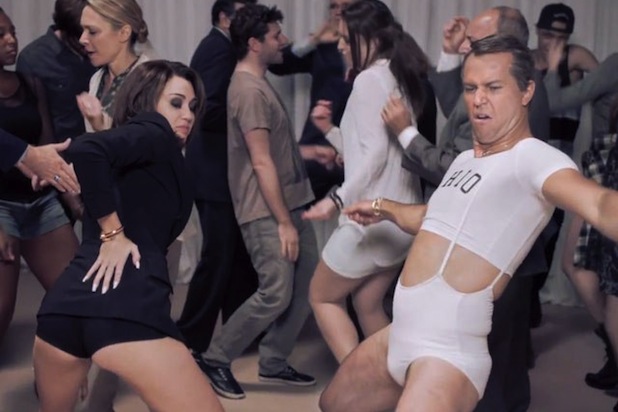 Much to the dismay of rap music video vixens around the world, "Saturday Night Live" star Taran Killam has crowned Miley Cyrus as the "master of twerk."
"I was with the master, right? I'm on set with the master of the twerk," Killam told Vanity Fair about the government shutdown sketch, in which he portrayed House Speaker John Boehner opposite Miley Cyrus playing an overly-sexual (what else?) Michele Bachmann.
Also read: Miley Cyrus Scores Best 'SNL' Ratings Since March
While filming the parody of Cyrus' hit single, "Can't Stop," Killam said he was given pointers from the master, and even unveiled the secret to success when twerking on the dance floor.
"Of course, pointers. And here, I'll reveal it — I'm sorry Miley," Killam said. "But she said: 'It's more about the ankles. You'd think it's about the hips, but it's not, it's more about the ankles.'"
See video: Miley Cyrus Joins Jimmy Fallon, The Roots for 'Can't Stop' A Capella
Killam also assured Cyrus is more than just a vibrating pair of buns.
"I can tell you she's reaching for that icon status, but she's fully in control," Killam said. "She is. She's with it, she's funny, she gets it. Everybody was impressed. And she's got a fantastic voice."