Miley Cyrus can command a stage with nary a twerk.
The pop star made herself the prime butt of jokes as she hosted and served as musical guest on this week's "Saturday Night Live," where Cyrus immediately began poking fun at her MTV Video Music Awards performance.
Also read: Tina Fey-Hosted 'Saturday Night Live' Grabs Best Premiere Ratings in 3 Years
The cold open attributed the apparently pending downfall of America to said VMA performance. In the initial sketch, a "Hannah Montana"-era Cyrus — played by Vanessa Bayer — warned the real singer of the pending national Armageddon backstage at the MTV awards show.
The skit also included "SNL" vets Taran Killam as Robin Thicke and Bobby Moynihan as a depressed performing teddy bear. Jay Pharoah offered his Will Smith impression to the opening scene as well. The movie star stopped by to make sure what his kids were about to see would be G-rated. Late spoiler alert: It was not, and the internet has the candid photos to prove it.
When asked by her old, buttoned-up self why she keeps doing the tongue-sticking-out thing, the real Cyrus quipped, "I'm having tiny strokes, yo." The video is embedded below.
Also read: 'SNL': Miley Cyrus Keeps Tongue-In-Cheek for Promos (Video)
The self-deprecating humor continued into Cyrus' brief monologue on Saturday, where the host assured the 30 Rock audience that there would be no twerking.
"I used to think twerking was cool, but now that white people are doing it, I think it's kinda lame," Cyrus said after a warm welcome in NBC's Studio 8H.
The monologue also included a public apology to manufacturers of the bottom half of shirts, as well as an apparently fully nude Moynihan riding an eponymous wrecking ball in a cut parody skit of the music video for Cyrus' newest hit.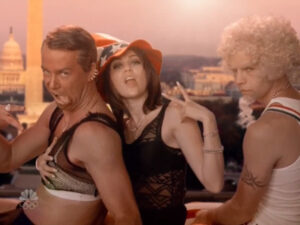 A few sketches into the actual show, twerking did rear its head as Cyrus portrayed an overly sexual Michele Bachman in a government shutdown music video set to her hit song, "We Can't Stop."
Also read: Sinead O'Connor vs. Miley Cyrus: Latest Letters You Gotta Read: 'Who the F— Is Advising You?'
In case you've exited the planet recently, Cyrus has made headlines for her raunchy MTV VMAs performance with Thicke, and her nude music video for her smash hit, "Wrecking Ball."
Last week's "SNL" season opener, hosted by alum Tina Fey, gave the longstanding sketch comedy institution its biggest premiere in three seasons.
This Saturday's show began late due to an overrun of NBC's Notre Dame football game broadcast.
Watch Miley's "sex tape" with new cast member Kyle Mooney: