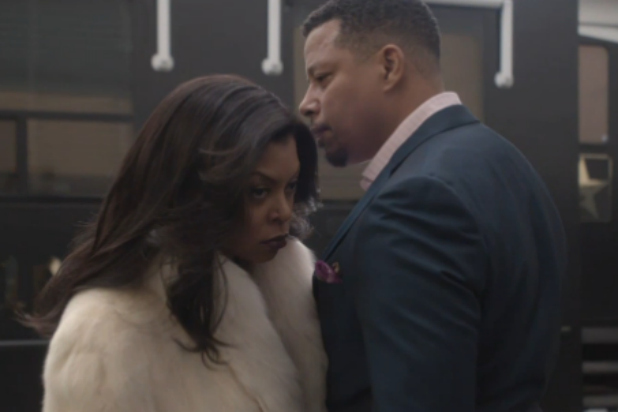 "Empire's" Lucious Lyons (Terrence Howard) clearly doesn't need your protection, and Veronica's (Veronika Bozeman) now ex-manager Mel probably needs to see a doctor.
There will be a bit of an incident in Lucious' trailer at the music-video shoot for Tiana (Serayah) and Veronica's duet "Bad Girl" on Wednesday. Howard's character pummels Mel with what appears to be either a cane or some sort of cane-shaped production equipment. Either way, we don't see the violence, but we sure do hear it — and it sounds like it really hurts.
Photos: The Top 40 Best and Worst Actors Playing Musicians Before 'Get On Up'
As an FYI to any casual fans, Mel is not an important character in the "Empire" universe — which is good, because he might be dead.
Later in TheWrap's exclusive video, Cookie (Taraji P. Henson) crashes the set, where she confronts Lucious about funeral plans for her cousin Bunkie (Antoine McKay), and it's not exactly a friendly conversation.
Also Read: Fox Co-Chief Rules Out 'X Factor' Return, But 'Optimistic' About 'X-Files' and '24' Reboots
The Lyons head to Philadelphia on Wednesday night's episode,"The Devil Quotes Scripture," and get a taste of what their life could have been if Lucious hadn't made it big, Fox's description reads. Also, Lucious promotes Hakeem's new relationship with hip-hop star Tianna, but tensions rise when another woman tries to catch the young man's eye.
Guest-starring on the episode are Naomi Campbell as Camilla, Carol Hardaway as Tasha, Gabourey Sidibe as Becky, Ta'Rhonda Jones as Porsha and Serayah as Tiana Brown.
"Empire" airs Wednesdays at 9 p.m. on Fox.