We know the Palme d'Or won't be going to a woman. And the odds that the lone American in competition will take it home are slim, at best.
So when the Cannes Film Festival stages its awards gala on Sunday night, who's going to take home the top prize?
Maybe it'll be "Biutiful," the grim Spanish/Mexican production that has divided critics. Or "Another Year," the low-key British film about an elderly couple. Or "The Housemaid," the sexy Korean film. Or "Certified Copy," the austere, cerebral Iranian drama.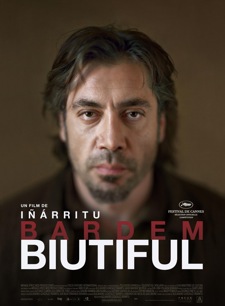 Or maybe the jury will cross us up, and unveil a winner that nobody was expecting.
The festival hasn't officially ended – but heading into its closing weekend, almost every one of the 19 films in the main competition has already screened.
(The two that haven't are "Tender Son: The Frankenstein Project," and the expensive Russian production "Burnt by the Sun 2," which was not well-received when it opened in its home country, and does not figure to be a factor in the competition.)
If you take stock in critics, the hard-to-please batch that contribute their verdicts to indieWIRE's criticWIRE poll rank three films at the top of the class: Mike Leigh's "Another Year," Abbas Kiarostami's "Certified Copy" and Apichatpong Weerasethakul's "Uncle Boomnee Who Can Recall His Past Lives."
Or if it's buzz you follow, then you'll have to reluctantly bypass the five-and-a-half hour "Carlos," because it screened out of competition, and go for Alejandro Gonzalez Inarritu's "Biutiful," or maybe "Another Year."
But neither of those are very reliable ways to pick a winner at Cannes.
Cannes' prizes, after all, are not easy to predict. The decisions are made not by the critics, and not by a large electorate with clearly defined tastes. Instead, decisions fall to a group of nine jurors.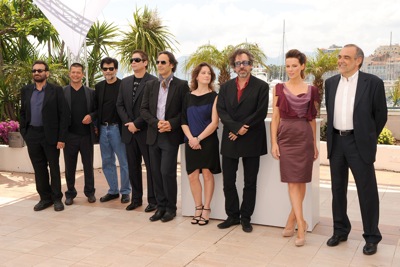 This year, director Tim Burton is the jury president; the rest of the panel is Alberto Barbera, Kate Beckinsale, Emmanuel Carrere, Benicio del Toro, Alexandre Desplat, Victor Erice, Shekhar Kapur and Giovanna Mezzogiorno. (Jury photo by Ian Gavan/Getty Images.)
Burton is the only American; the rest of the group includes two jurors each from France and Italy, and one each from England, Puerto Rico, Spain and India.
Three are directors, three are actors, one is a composer, one a cinematographer, and one an author, screenwriter and director.
In the end, Sunday's prizes will come down more to the likes, dislikes, passions and prejudices of Burton, Beckinsale, del Toro, Kapur, Desplat and their colleagues than to the length of standing ovations or the collected wisdom of the critics.
Still, it's possible to look at the first 10 days of the festival, and see who emerged with some momentum and who didn't.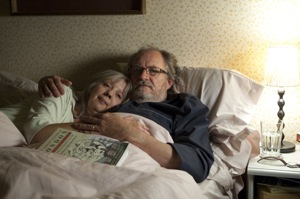 Frontrunners:
Hanging on to top-dog status, if only by a thread, are Alejandro Gonzale Inarritu's "Biutiful," which divided critics but was largely embraced by festivalgoers, and "Another Year" (right), which Sony Pictures Classics will distribute in the United States.
But don't overlook …
"Certified Copy" and "Uncle Boonmee Who Can Recall His Past Lives" are formidable competitors, and may be more in keeping with the international art-movie aesthetic of Cannes. A vote for the former film, the first to be made outside of Iran by veteran director Abbas Kiarostami, would also be a way to salute Iranian cinema, and by extension the imprisoned director Jafar Panahi, whose hunger strike has made him one of the cause celebres of the festival.
As for "Uncle Boonmee," here's a description from indieWIRE's Eric Kohn – and it certainly sounds to me as if it's the kind of thing that might appeal to Tim Burton's sensibility: "a melding of poetic and comic forces, yielding an experience defined by sheer ingenuity."
The home team, France, also has a pair of strong contenders, Xavier Beauvois' "Of Gods and Men" and Bertrand Tavernier's "The Princess of Montpensier."Neither made the big splash of some of the other films, but both were well-received; Tavernier is a respected vet of Cannes and a past winner, while the New York Times says Beauvois' film has a "devastating finale."
And according to Pete Hammond at the Envelope, there's another dark horse in the race: Tim Burton, he says, loved "The Housemaid" and raved to director Im Sangsoo about his movie at a party over the weekend.
Other possibilities:
The South Korean film "Poetry" has stirred up strong passions, though it seems likelier to produce a best actress win for Yun Jung-hee (right) than an honor for the film itself. And "A Screaming Man," from African director Mahamat-Saleh Haroun, has zealous partisans as well.
Unlikely:
Doug Liman's "Fair Game," a drama about the Valerie Plame affair and the only American film in competition, will be popular for political reasons, but it's not an agit-prop barnburner like "Fahrenheit 9/11," which won the Palme d'Or in 2004. The film is unlikely to pick up enough support on its artistic merits.
Mathieu Amalric may be a popular actor in France, but his directorial debut, "Tournee," seems awfully light and frothy to win. Ken Loach was a former Palme d'Or winner for "The Wind that Shakes the Barley," but his "Route Irish" gained little traction from its screenings.
And while the lineup promised a strong festival for Asian cinema, "Chongqing Blues" did not go over particularly well, and "Outrage" proved to be sharply divisive.
This discussion might be dramatically different if "Carlos," Olivier Assayas' epic look at the terrorist known as Carlos the Jackal, was screening in competition. But the film, in certain ways the most arresting and talked-about of the festival, was made as a miniseries for French television and isn't eligible for prizes.
In the end, several films will go home with awards: in addition to the Palme d'Or, the Cannes jury also awards a Grand Prize and a Jury Award, in effect creating a win, place and show trifecta.
Awards are also handed out for director (if "Biutiful" or "Another Year" takes the top prize, it wouldn't be surprising to see Kiarostami, Beauvois, Tavernier or Weerasethakul here), and for actor and actress.
Best actor presents the closest thing to a consensus, with Javier Bardem universally acclaimed for "Biutiful" (though Hammond forsees a potential upset coming from French actor Lambert Wilson for "Of Gods and Men" and "The Princess of Montpensier"). For best actress, Lesley Manville from "Another Year" had the early heat, but Yun Jung-hee came on strong once "Poetry" screened. And Juliette Binoche (left) is beloved on the Croisette (she's even on this year's Cannes poster), making her role in "Certified Copy" hard to ignore.
Then again, this is all in the hands of seven men and two women, and there's no telling what they really think. So really, all bets are off.
Not that it has any influence on the jury, but as of Friday afternoon, here are the criticWIRE grades for the films in competition:
"Another Year:: B+
"Copie Conforme" ("Certified Copy"): B+
"Long Boonmee Raleuk Chaat" ("Uncle Boonmee Who Can Recall His Past Lives"): B+
"Poetry": B
"Des Hommes et des Dieux" ("Of Gods and Men"): B-
"The Housemaid": B-
"Tournee" ("On Tour"): B-
"Biutiful": C+
"Fair Game": C+
"Un Homme Qi Crie" ("A Screaming Man"): C+
"Outrage": C+
"Schastye Moe" ("My Joy"): C+
"Rizhau Chongqing" ("Chongqing Blues"): C
"Hors la Loi" (Outside of the Law"): C
"La Nostra Vita" ("Our Life"): C
"La Princesse de Montpensier" ("The Princess of Montpensier"): C
"Route Irish": C
"Utomlyonnye Solntsem 2: Predstoyanie" ("The Exodus – Burnt by the Sun 2"): NO GRADES YET
"Szelid Teremtes – A Frankenstein Terv" ("Tender Son – The Frankenstein Project"): NO GRADES YET