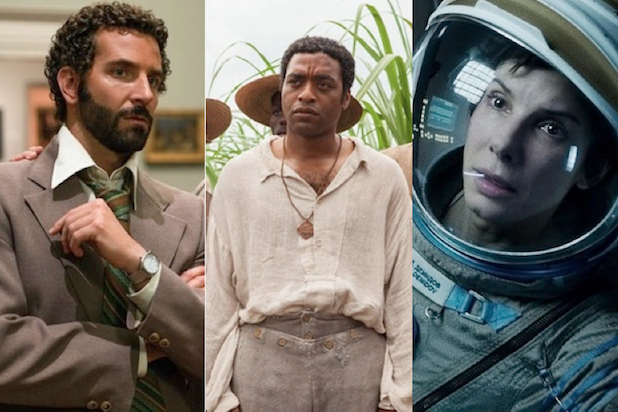 And then there were three?
Academy voters spoke out on Thursday morning – and after a long, fiercely competitive awards season, the films that sit atop the heap are clearly two that have been frontrunners since early September and the one that hustled onto the scene at Thanksgiving.
See photos: 17 Biggest Snubs & Surprises: Oscar Nominations 2014 (Photos)

David O. Russell's "American Hustle" tied Alfonso Cuaron's "Gravity" tied for the most nominations with 10, with Steve McQueen's "12 Years a Slave" right behind with nine. "Hustle" has the massive Actors Branch in its corner, becoming the second consecutive Russell movie to score nominations in all four acting categories; "Gravity" dominated in the below-the-line categories, as expected; and "12 Years a Slave" mixed the two, though its failure to win a nod for cinematography had to hurt.
Paul Greengrass' "Captain Phillips," which has muscled its way into the top rank with a strong showing with the Hollywood guilds, slipped slightly when Greengrass was left out of the Best Director category.
See photos: Oscar Nominees in Pictures
And speaking of directors, the AMPAS Directors Branch didn't repeat last year's baffling nominations, in which they left out Kathryn Bigelow, Quentin Tarantino, Tom Hooper and eventual Best Picture winner Ben Affleck. Instead, they matched the Directors Guild nominations with a typical four-for-five, with Alexander Payne ("Nebraska") sliding in over Greengrass.
In a show of across-the-board consensus, the nine films with the most nominations were also the nine Best Picture nominees: "American Hustle" and "Gravity" with 10; "12 Years a Slave" with nine; "Captain Phillips," "Dallas Buyers Club" and "Nebraska" with six; "Her" and "The Wolf of Wall Street" with five; and "Philomena" with four.
Also read: Oscar Nominations: David O. Russell Film Scores Acting Nods in All 4 Categories for 2nd Year Running
The result left out such eminently worthy films as "Inside Llewyn Davis" and "Blue Jasmine," both of which got two nominations in other categories; "All Is Lost," which was nominated for sound editing but saw star Robert Redford overlooked; and the top-notch indies "Fruitvale Station" and "Short Term 12," which were omitted entirely.
Maybe it's a strange slate when "Fruitvale" and "Short Term" don't get nominated but "Jackass Presents Bad Grandpa" does (for makeup), but the nominations managed to convey a pretty good sense of a rich, varied year in cinema. Nominees ranging from Cuaron's technically dazzling trip to Russell's Abscam-inspired caper … from Greengrass' gripping story of piracy to Spike Jonze's idiosyncratic and beguiling "Her" … from Payne's affectionate and finely-drawn "Nebraska" to Scorsese's over-the-top bacchanalia "The Wolf of Wall Street" … from the searing brutality of "12 Years a Slave" to the unfathomable forgiveness of the character study "Philomena" and the unexpected heroes of "Dallas Buyers Club."
Also read: Inside 'American Hustle': David O. Russell Takes His All-Star Cast on Wild Ride to the '70s
In the end, "Dallas Buyers Club" and "Philomena" came on stronger than expected, "Saving Mr. Banks" turned out not to be Academy's spoonful of sugar, and voters left out AMPAS governor Tom Hanks not once but twice – once for his lead role in "Captain Phillips," then again for his supporting turn in "Mr. Banks."
The Weinstein Company, which has won two of the last three Best Picture Oscars and has long been a dominant player on the awards landscape, doesn't have any frontrunners this year, and its once-promising "Lee Daniels' The Butler" was left out entirely. But TWC did manage to rally, with "Philomena" scoring a robust four nominations, including Best Picture, "August: Osage County" landing the two acting nods that seemed in jeopardy and "The Grandmaster" making up for its failure to get into the Best Foreign Language Film category by scoring nominations for cinematography and costume design.
Also read: Oscar Nominations: '12 Years a Slave,' 'Gravity,' 'American Hustle' Lead the Pack
And now the endgame begins. Academy campaign rules say that the parties will stop and even the Q&A screenings will be restricted – but there's more than six weeks until the Oscars and four weeks until final voting even begins. That's a lot of time for voters to catch up on the movies they have yet to see, for minds to change, and for movement within the top nine (or even the big three).
The next few weeks will find "Gravity" trying to sell itself as not just dazzling but also emotional, "12 Years" looking to resonate as a landmark depiction of tough history and "American Hustle" working to solidify support among the actors.
See photos: Outtakes from OscarWrap Magazine Shoots
And all three films will need to make sure they climb higher on the ballots of voters who don't rank them first – because in the final round of Oscar voting, you need to become a consensus favorite, not a passion pick.
It's a tricky move to pull off, but there's lots of time in which to do it.
Meanwhile, Oscar show producers can fill in the blanks as they plan their show – which, if they want to rescue the songs from the separate concert that is scheduled to take place a couple of days before the show, could include performances by U2, Pharrell Williams and maybe even Scarlett Johansson, who sang the first version of one of the nominated songs as the voice of the operating system in "Her."