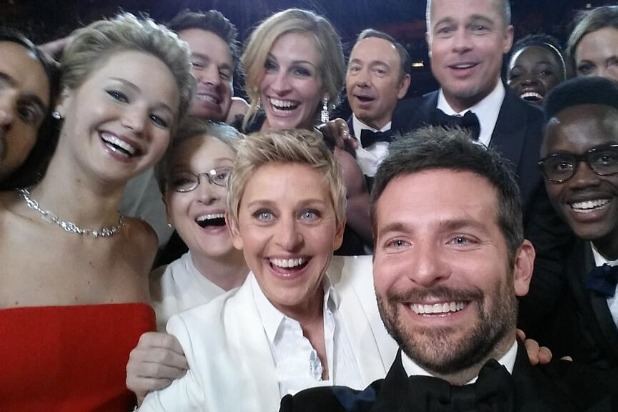 The Oscars got the awards right, but didn't have much fun handing them out.
There were some moments: Host Ellen DeGeneres' jokes had more bite than usual, and it worked. Her bit about ordering pizza was cute. Her group selfie broke Twitter for awhile and will be hard to top. (Maybe this be the end of selfies for a while? Please let it be so.)
Also read: Oscars: Ellen DeGeneres Serves Pizza to Hollywood's Finest
But overall, the Oscars had too many long stretches of oddly paired stars asked to read dull introductions. Channing Tatum introduced something confusing, Jason Sudeikis and Kate Hudson walked out together. So did Naomi Watts and Samuel L. Jackson, and Jennifer Garner and Benedict Cumberbatch. Matthew McConaughey and Kim Novak were tasked with the animation categories. Why? There didn't seem to be much reason for matching presenters with each other or their categories.
DeGeneres started strong, though meaner than usual. She praised Liza Minelli as "one of the best Liza Minnelli impersomators I've ever seen in my life." She added: "Good job, sir."
Also read: Ellen DeGeneres' Oscars Monologue Pokes Fun At Jennifer Lawrence, Liza Minnelli (Video)
After running through the names of several woman who looked beautiful, she said Jared Leto was the prettiest. Matthew McConaughey was pretty too, she said — but a "dirty pretty."
But she was forced to bear too much of the burden of making the rest of the show interesting. That led to the pizza bit, which started charming — especially when she enlisted a real pizza delivery man to hand out slices to the likes of Angelina Jolie. But it went on a little too long.
Also read: Ellen DeGeneres' Epic Selfie With Meryl Streep, Jennifer Lawrence And More Breaks Retweet Record (Photo)
DeGeneres claimed credit for crashing Twitter with her group selfie, which included Julia Roberts, Bradley Cooper, Jolie, Meryl Streep, Jennifer Lawrence, Kevin Spacey, Lupita Nyong'o and Brad Pitt, among others.
But wait: I didn't want Twitter to go down. It's there to keep us in the mix when award shows get boring.
There were some great speeches, but they were too far apart. Leto, who won for best supporting actor in "Dallas Buyers Club," started things off nicely with one that stayed tasteful while checking an impressive number of boxes: He praised his mother, saluted his brother, plugged their band, honored the struggle of AIDS patients, and acknowledged those in Venezuela and the Ukraine.
See photos: Oscars Red Carpet Arrivals
The best speech of the night was Nyong'o's after her win for "12 Years a Slave," which was, remarkably, her first film. She began: "It doesn't escape me for one moment that so much joy in my life is thanks to so much pain in someone else's." The Mexican-born, Kenya-raised, Yale-trained actress thanked her collaborators, and then put into beautiful perspective what her award means for the wider world: "When I look down at this golden statue, may it remind me and every little child that no matter where you're from, your dreams are valid."
Cate Blanchett's speech after her Best Actress win wasn't quite as eloquent. Neither was McConaughey's for Best Actor. But both were plenty entertaining. And the wins for "Gravity" director Alfonso Cuaron and "12 Years a Slave" for Best Picture were exhilarating — neither winner was a lock by any means.
Also read: Oscars: The Complete Winners List
But viewers had to sit through a lot of Teleprompting to get to those moments.
A footnote: Every Oscar review is constitutionally mandated to include some nitpicking of the In Memoriam segment. So here we go.
The segment, which no one will ever execute to everyone's satisfaction, made the curious decision this year to include Philip Seymour Hoffman's card go last, and to freeze on it. That seemed, intentionally or not, to prioritize him above the others who have died in the last year. Would alphabetical order be so bad? Or just going in the order people died? The segment did include a link to a longer list online, a good move.