"Anywhere, U.S.A.," the Cameron Woods neighborhood loved by location scouts for its white picket-fence look, is gradually becoming more diverse
Diversity has historically been slow to come to the highly filmed stretch of Orion Avenue in Los Angeles' San Fernando Valley known as Cameron Woods. But the same throwback suburban qualities that have long brought film crews to its spacious ranch-style homes and Cape Cods — it's called "The Leave It to Beaver Street" for a reason — are drawing new residents who look more like the surrounding city.
Cameron Woods residents are still mostly white, a contrast to the rest of Van Nuys where it's situated and heavily Latino. Traditionally, the 30 or so homes on this upscale stretch of Orion Avenue between Victory Boulevard and Erwin Street rarely came up for sale, instead passing to family members or the children of neighbors. But as more of those homeowners have been "aging out" or otherwise moving on, the increased turnover is bringing greater diversity.
Become a member to read more.
While there are still few if any Latino residents here, "many of the new residents are people of color, interracial and/or gay, which is different than preceding generations of residents," said Kern Konwiser, a documentary filmmaker and co-president of the Cameron Woods Association, a neighborhood group that tracks and manages filming there. "The one consistent thing is most new families have young kids, as did we when we first arrived."
Cameron Woods' large lots, charming homes and neighborly feel have helped make this idyllic neighborhood a coveted one, especially for families with young children. The ability for homeowners to participate in the neighborhood's rich cinematic history while generating significant revenue through filming is also considered a nice perk. Meanwhile, location scouts like its "Anywhere, U.S.A." look — it doesn't register as typically Californian — as well as easy logistical access and film-friendly neighbors.
Konwiser, who is white, bought his family's house in the neighborhood eight years ago. The documentary film producer felt very fortunate to have spotted a classified ad for the post-war, traditional ranch-style home on Orion Avenue that had just fallen out of escrow.
He fell in love with the bright, four-bedroom home with a huge backyard, vintage pool and guest house and snatched it up the next day. He also loved the price tag, discovering that luxury homes are less expensive in this part of L.A.'s San Fernando Valley.
"We moved here because it offered our family space to spread out and to have everything we've ever wanted in a house and a very neighborly environment where people really knew each other," Konwiser said.
Konwiser was also thrilled to learn that character actor Kathleen Freeman of "Blues Brothers" and "Singing in the Rain" fame used to live in the house. World War II veteran-turned-Hollywood star Audie Murphy, TV comedy writer Sam Perrin of "The Jack Benny Show," actress Rose Marie of "The Dick Van Dyke Show" and singer John Raitt and daughter Bonnie also once lived in the neighborhood.
Built on a walnut grove in the late '40s and early '50s, the neighborhood has been used to shoot scenes from movies such as "La Bamba" and "The Adventures of Mary Kate and Ashley: The Case of Thorn Mansion" as well as episodes of TV series such as "Dynasty," "CHiPs," and "You" Season 3, along with tons of commercials. (Despite the moniker, the actual "Leave It to Beaver" series was filmed on studio backlots, though there are obvious similarities.)
Residents are quite proud of the film legacy they have in their neighborhood. "We feel like we're sort of part of something bigger than ourselves," Konwiser said.
"The perfect place"
Janell, a new resident of Cameron Woods who asked TheWrap to use her middle name due to security concerns, moved her interracial family there from Beverly Hills in late 2021. The Black mother of two wanted a neighborhood where her children could play in the street, she said.
Following an intense two-year search, she fell in love with this stretch of Orion Avenue after visiting the four-bedroom, four-and-a-half bathroom home they'd eventually move into.
What "sealed the deal," she said, was the way several neighbors swarmed her family to welcome them to the neighborhood, even before they moved in. Her young son still asks about these neighbors, she said, though two of them have since passed away.
"It's the connection that creates the neighborhood and the warmth that you feel," Janell said. "It's just the perfect place for us."
A veteran location scout told Janell she was the first woman of color he had seen here. She was also surprised to learn that the lots here were once under a restrictive racial covenant clause that barred homes from being used or occupied by "any person whose blood is not entirely of the white or Caucasian race" except for servants of occupants, according to a document from 1948 reviewed by TheWrap.
Though the U.S. Supreme Court ruled in 1948 that enforcement of such covenants was unconstitutional, their popularity helped create patterns of segregation that persisted for generations, according to the U.S. Commission on Civil Rights. As much as 80% of Los Angeles and Chicago carried restrictive covenants barring Black families by 1940, according to a magazine article cited by the commission. The Fair Housing Act finally outlawed such discrimination in 1968.
"It's interesting to know that I live on that street freely where a lot of people couldn't," Janell said.
Another Cameron Woods resident, a former food executive who is gay and has a mixed-race family, said they were immediately embraced by their neighbors, who brought them gifts and food to welcome them into the neighborhood seven years ago. He asked that his name not be used because his husband works in the entertainment industry.
The first neighbor to knock on their door was a "very conservative Republican," who became a close friend of his despite their clear political differences, he said.
"I was like, 'Is this real? Did I just step back into the 1950s?'" he said.
With the growing diversity here in recent years, Cameron Woods feels to him like "the new 'Leave It to Beaver.'" "One that's inclusive," the father of two said. "If anybody had any hesitation about other people's race or anybody who is different, that's gone."
Saying goodbye
Much of the goodwill Cameron Woods has received from production companies over the years is credited to longtime residents like the recently deceased Marilyn Mullins, whose ranch-style home has long been a favorite for commercial producers, and Dr. Sidney Malcolm, a retired dentist who was a strong advocate for filming here.
Mullins, who died in October at the age of 76, was swept into the profitable world of filming five decades ago when the red barn-like home she and her husband were in the process of buying was being used to film the television movie "Go Ask Alice," according to her family. Since then, dozens of commercials, TV movies and feature films — including "Big Trouble" starring Alan Arkin and Peter Falk — have been partly shot at the home.
"Her house was her pride and joy," said Mullins' daughter Theresa LaFrance, as she stood in front of the now-white home where she and her two siblings, Christina and Steven, were raised. "It was her identity — that and her children."
The Mullins home traditionally got the most commercial work in Cameron Woods because of its double deep backyard, which didn't have a pool and was used for numerous lawn mower and garden products commercials, said retired location manager Ken Campbell.
"How many Miracle-Gros we did in her backyard!" Campbell said. "She always kept the grass looking immaculate. That was key for her house. She had the best backyard on Orion."
Her son, a realtor, will soon be putting this home on the market.
"Our hope is that someone can treat it with the love and care that our parents did and keep that going, whether it means filming or not," Steven Mullins said.
Like many homes in Cameron Woods a sign attached to Malcolm's window was recently seen declaring "We Welcome Filming."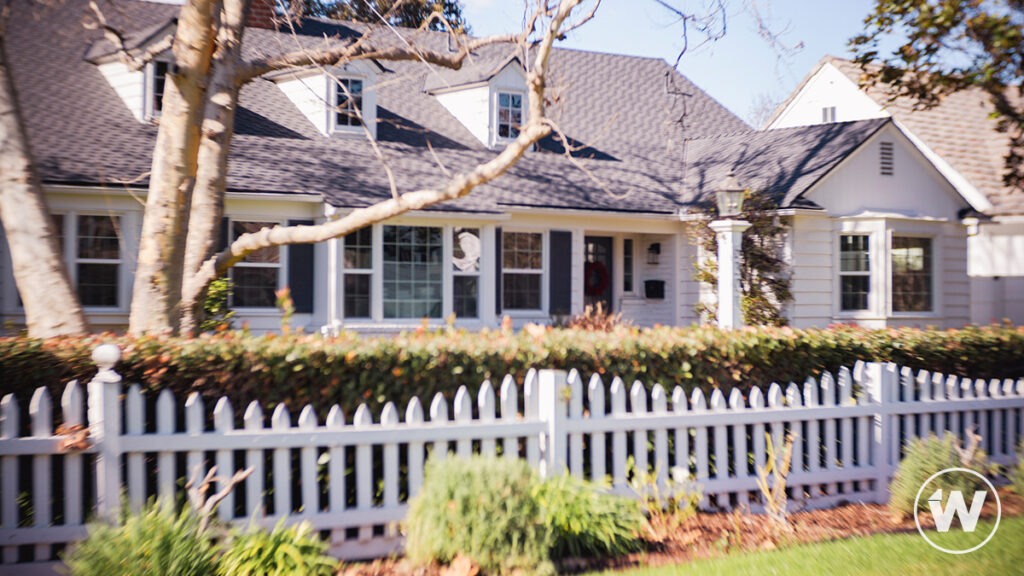 "Everybody knows everybody," Malcolm, a former film liaison for the neighborhood, said from a home hospital bed a week before his death in January. "It's just a great place to live."
Orion Avenue, including not just the part in Cameron Woods but also a stretch in neighboring Midvale Estates, had more than three dozen filming projects last year alone, according to Film LA spokesperson Philip Sokoloski. Similarly film-friendly Langdon Avenue, which runs parallel to Orion Avenue, had close to 20 film projects.
Based on those numbers, both streets, which mostly do commercial filming, qualify as welcoming for filming, Sokoloski said.
Cameron Woods residents, who include retirees, entertainment industry professionals and lawyers, said there's currently only one homeowner who isn't thrilled with the significant filming that happens here. (He didn't respond to TheWrap's requests for comment.) But diversity of opinion appears to be welcome on this part of Orion Avenue, too.
"We have a nice collegial relationship. It's an unusual street," said Carolyn Dye, an attorney who has lived here with her wife, Hope Faust, since 2016. One of their grown children also lives on the property. "Now we have all kinds of folks living on the street. It's like L.A. now."
This is part 1 of TheWrap's series on L.A. production in "Anywhere USA." Read Part 2 below:
Commercial Filming's Decline Is Taking a Toll on LA Homeowners, Too