(Spoiler alert: Do not keep reading if you are not caught up on Season 2 of "Empire")
The year 2015 was undoubtedly the year of "Empire."
Fox's hip-hop drama took the world by storm when it debuted back in January 2015 and did not slow down when Season 2 kicked off in September.
Ahead of the midseason premiere Wednesday night on Fox, TheWrap looks back at all the best moments that we've seen thus far, from Lucious killing his best friend in Episode 1, to Jamal coming out, to Rhonda's fateful trip down the stairs.
See video: James Corden Calls Taraji P. Henson a 'Salty Fake-Ass Ho' in Cookie Lyon 'Empire' Audition
Lucious Kills Bunkie
Lucious Lyon (Terrence Howard) showed his true colors in the very first episode of "Empire." When his best friend Bunkie tried to extort money from him, Lucious responded by putting a bullet in Bunkie's eye.
Cookie Bares All in a Restaurant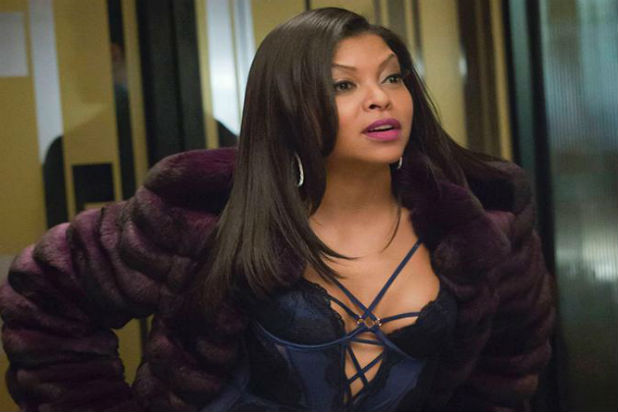 Convinced that she and Lucious were meeting for a romantic rendezvous, Cookie (Taraji P. Henson) arrives at a restaurant wearing nothing but a fur coat and some lingerie. But when it turns out the dinner is a chance for Lucious to announce his engagement to Anika (Grace Gealey), Cookie storms out in memorable fashion.
Also Read: Queen Latifah Cast in 'Empire' Co-Creator Lee Daniels' New Fox Drama
Jamal Comes Out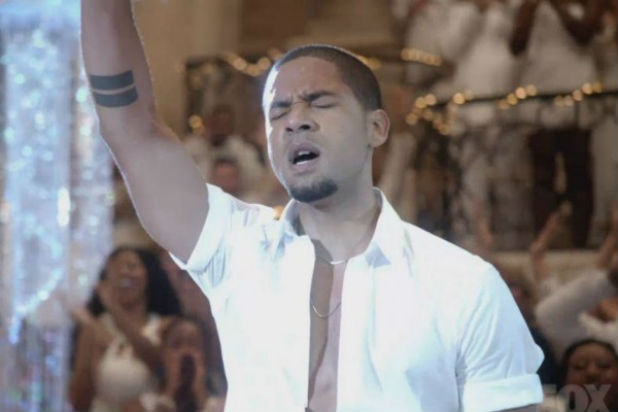 Jamal (Jussie Smollett) grappled with revealing his sexuality for most of Season 1, but when he did come out, he made it count. By flipping some lyrics in one of his father's old hits, Jamal let the world know that he was not ashamed of who he is.
Lucious Lets It All Hang Out
Under threat of a federal investigation by Roxanne Ford (Tyra Ferrell), Lucious was determined to prove he had nothing to hide. So when Ford arrived with a search warrant for his home, Lucious decided to bare it all, taunting Ford by saying, "Look wherever you like."
Also Read: 'Empire' Producer Danny Strong: Cookie, Lucious in 'This Very Dark Place Together'
Vernon Makes a Surprise Return
Vernon (Malik Yoba) was going to turn state's evidence against Lucious, but got killed by Rhonda (Kaitlin Doubleday) and Andre (Trai Byers) before he could. After they dug up his body to prove their loyalty to Lucious, Lucious decided to prove a point by leaving the body in Ford's car.
Cookie Falls for the Wrong Guy
It looked like Cookie may have finally found love with concert promoter Laz Delgado (Adam Rodriguez). But Laz had other motives (at least at first), as he was working with the gang that kidnapped Hakeem (Bryshere "Yazz" Gray). Laz eventually broke from the gang, but not soon enough to salvage his relationship with Cookie.
Also Read: How 'Empire' and Dick Wolf Made Chicago TV's Hottest New Location
Jamal Gets a Girlfriend
Despite being gay, Jamal couldn't fight his attraction to Skye Summer (Alicia Keys). The two collaborated on a song, which led to them sharing a monumental kiss at the piano. They eventually agreed to just be friends, but the chemistry between them was undeniable.
Anika Loses It
Anika got thoroughly screwed over by the whole Lyon clan, losing her job at Empire and then at Lyon Dynasty. Then, after hooking up with Hakeem, Anika finds out she's pregnant. That drives her to not only stalk Hakeem but his new girlfriend, Laura (Jamila Velasquez).
Also Read: 'Empire's' Adam Rodriguez on How Laz Fell for Cookie's 'Tough Charm'
Mimi Plays the Long Con
Mimi Whiteman (Marisa Tomei) became a majority shareholder in Empire. While she and Lucious bonded throughout Season 2, her ultimate plan came to light in the midseason finale. She used secret recordings of Lucious to force a vote by the board of directors to remove Lucious as chairman of his own company.
Camilla Comes Back with a Vengeance
Camilla (Naomi Campbell) exited Season 1 at Lucious' insistence, as he didn't like the influence she had over Hakeem. But she came back in season two out for revenge. Now married to Mimi, Camilla gets her hooks into Hakeem once again and tries to get him to turn on his family.
Also Read: Critics Slam 'Empire'-Pepsi Deal as a 'Public Health Tragedy'
Thirsty Goes Down in an Elevator
Andre Royo appeared in Season 2 as Lucious' new right-hand man, Thirsty. He proved to be a dedicated bagman, helping Lucious carry out a number of illegal endeavors. But the most shocking (and hilarious) moment for Thirsty came in the midseason finale when he performed cunnilingus on an Empire board member in an elevator to secure her vote for Lucious.
Hakeem Turns on His Family
Hakeem repeatedly butted heads with his father throughout Season 1 and the first part of Season 2, but the youngest Lyon made his boldest move in the midseason finale. Under Camilla's direction, Hakeem voted to remove his father from the Empire board of directors.
Rhonda Gets Pushed Down the Stairs
Rhonda revealed that she was pregnant at the end of Season 1. In Season 2, she spends most of her time preparing her and Andre's new home for the baby's arrival. But in an incredible twist, an unknown assailant breaks in and pushes Rhonda down the stairs.
"Empire" Season 2 resumes tonight at 9 p.m./8c.