In this morning's roundup of Oscar news 'n' notes from around the web, Oscar's potential double-dippers revealed, more awards dispensed, and what not to ask Jason Reitman.
Anne Thompson rounds up the performers who might conceivably be in the running with two different performances this year: P. Cruz, M. Cotillard, J. McAvoy, C. Plummer, M. Damon, G. Clooney, M. Streep. In most cases, she concedes, it's pretty clear which performance has the Oscar heat. (Thompson on Hollywood)
More Hollywood Film Festival awards announcements: Julianne Moore, Bradley Cooper, Ryan Kavanaugh, Shorhreh Agdashloo, Melanie Lynskey, Paul Schneider and Zachary Quinto. And Hilary Swank gets the big honor, the Hollywood Actress Award, that some had speculated would go to Meryl Streep. Kris Tapley has the entire list, almost two dozen strong. I'm starting to pity the small handful of 2009 actors who aren't getting one of those awards. (In Contention)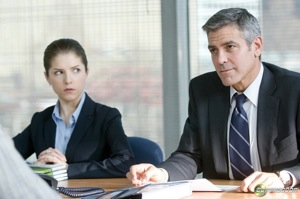 Meanwhile, "Up in the Air" pixie Anna Kendrick (left, with George Clooney), nudges into the festival-awards picture with a Rising Star award at the upcoming Palm Springs International Film Festival. To make things even sweeter, the honor will be handed out at a ceremony hosted by Mary Hart – who is, if possible, even perkier and more annoying than Kendrick's character. (The Hollywood Reporter)
On Twitter, "Up in the Air" director Jason Reitman has been running down the most-asked questions he gets on the promo trail for his movie. So, if you talk to the guy, here are some queries you might want to avoid: How was it working with George Clooney? Did Clooney pull any pranks on the set? Did you experience much pressure making the followup to "Juno"? How many air miles do you have? Has your father influenced your filmmaking career? What's up with "Ghostbusters 3"?
Wes Anderson may have directed "The Fantastic Mr. Fox" by email (more on that later), but the Guardian says that Roman Polanski is finishing his political thriller "The Ghost" from jail to have it ready in time for February's Berlin Film Festival.
Steven Zeitchik looks at Fox Searchlight and wonders if the studio's run of best-picture nominees will come to an end with "Amelia," which has been picking up some concerned buzz because the only scheduled screenings will happen surprisingly close to the film's October 23 release date ... which isn't the usual m.o. for Oscar movies not directed by Clint Eastwood. (Risky Business Blog)
Tom O'Neil sums up the animated-feature category as he sees it. He figures the best bets are "Up" and "Ponyo," followed by "Fantastic Mr. Fox," "Cloudy with a Chance of Meatballs," "Coraline," "9" and "The Princess and the Frog." He also warns us to expect surprises. (Gold Derby)
"Where the Wild Things Are" attracts an overflow crowd to the New York Public Library. The book, not the movie. Or, rather, the book, read by two actors from the movie, Forest Whitaker and Catherine Keener. MTV Movies Blog has the details.