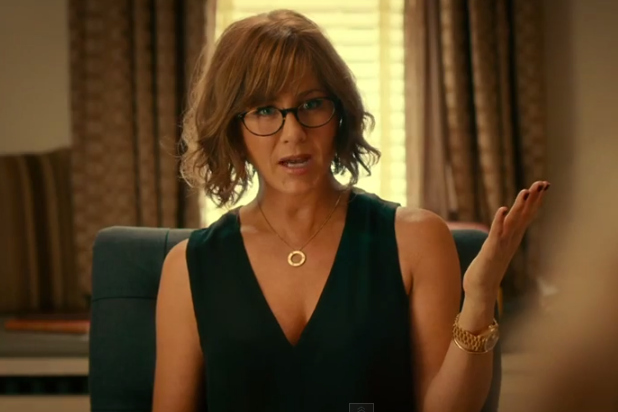 The "She's Funny That Way" trailer takes slapstick comedy to a whole new level.
In other words, lots of people get actually slapped within the two-minute, 11-second teaser — and by the end, Will Forte even gets straight up punched-out by Jennifer Aniston.
Also Read: The Evolution of Jennifer Aniston: From a Central Perk Friend to Awards Nominated Film Actress (Photos)
The quirky film follows a married Broadway director (Owen Wilson) who falls for prostitute-turned-actress Izzy (Imogen Poots) and works to help her advance her career (the thespian one, not the street-walker gig).
Along the way, seemingly every male in the film solicits Izzy's services, which, when found out, explains all the aforementioned physical assault.
Also Read: Jennifer Aniston Explains Making 'Cake' to Jon Stewart: 'Screw It … F-ck It' (Video)
Aniston, who appears to pack a strong right hook, plays the hooker's therapist; Forte is the "Cake" star's on-screen husband.
Both Aniston and Wilson's characters try to get Poots' to quit being a lady of the night, though those skills come in handy when the perfect stage part comes along. Unfortunately, that transition turns everyone's lives upside-down.
Also Read: Jennifer Aniston Gets Quizzed on Jennifer Aniston in TheWrap's Rapid Fire Round (Video)
Rhys Ifans and Kathryn Hahn also star in the oddball comedy, which comes out on May 1. Peter Bogdanovich directed the project, and wrote the screenplay along with Louise Stratten.
The movie was produced by Lagniappe Films and Venture Forth; it is being distributed in the U.S. through Clarius Entertainment.
Also Read: Jennifer Aniston Praises Angelina Jolie's 'Unbroken,' Slams Rivalry Reports