Hispanic broadcast network Telemundo will offer three new primetime novelas in the 2010-2011 season, and is seeking advertisers to sponsor a traveling talent tour featuring their stars.
Announced Thursday at its upfront media presentation in New York, the network also laid out plans for a greatly increased web strategy and an expansion of its primetime block from three hours to four beginning this Monday, when it begins televising another new novella, "A Corazon Abierto" ("An Open Heart"), at 7 p.m.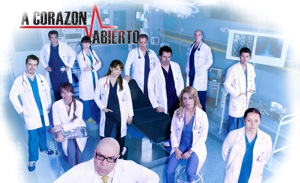 Based on Shonda Rhimes' hit ABC medical drama "Grey's Anatomy," the Telemundo adaptation was written by Fernando Gaitan, creator of Spanish-language hit novela "Betty la Fea" (of course, "Ugly Betty").
It will run in the hour previously occupied by a game show and will mark the first time in several years that the network has run a four-hour block of novela programming in primetime.
As for the new fall novelas, all will be sold to advertisers during the upfront period.
"El Fantasma de Elena" ("Elena's Ghost") is about a young woman who marries a rich man whose former wife still lives in the form of a ghost; "Casanova Sin Amor" ("Loveless Casanova") is about the owner of a TV station who poses as a poor man, starts a relationship with an actress who does not know his real identity, and helps her become star before revealing who he really is. "La Reina del Sur" ("The Queen of the South") is about a woman who rises to become a drug lord.
Also at the upfront, Telemundo sister cable network mun2 announced it will air a new reality show this fall, "Jenni Rivera Presents Chiquis and Raq-C," following the life of the daughter of Mexican music icon Jenni Rivera, known to her friends as Chiquis, and her best friend and Los Angeles radio personality Raquel "Rac-C" Cordova. Mun2's targeted audience is the 18-34 demo.
Mike Rodriguez, senior vice president of sales for Telemundo, said the talent tour, or Eventos Telemundo, is hoping to sign on sponsors during the upfront. He said plans call for about five tours to be held during the 2010-2011 season. And it's not just a meet-and-greet; the network hopes to gather names of fans in the course of the tour and create a database through which they can gather opinions about the fans interest in the network's shows.
"We want our viewership to become a relationship," said Jackie Hernandez, Telemundo's COO. She said sponsoring these tour events will enable advertisers to become involved "much more than just with 30-second commercial spots."
It will not be mandatory for tour co-sponsors to advertise on the channel.
In other announcements, Peter Blacker, exec VP of digital and emerging platforms, said Telemundo is going to begin streaming all of its novelas online bilingually, so it can also reach Hispanics who want to view the novelas in English.
And Telemundo president Don Browne said the network is planning down the road to offer a "24/7 multiplatform approach to its news coverage. He didn't get into specifics but said new hires on the news side will have backgrounds in digital as well as broadcast.
In fact, Telemundo is planning to step up its presence on the web.
The network unveiled at the event an HD broadband video player developed through a partnership with MSN. The new video player will include English subtitles.
Blacker said advertising rates on the channel's existing video offerings have been "anywhere from $20-$45 depending on targeting."
He wouldn't reveal exactly how much revenue Telemundo has raked in from web video so far, but he said the platform is quite popular with advertisers. "We're basically constantly sold out, we run at near capacity," he said.
Telemundo's online strategy isn't limited to video.
Blacker said Telemundo will begin rolling out new blogs in "specific local markets" within the next 12 months, featuring content in both English and Spanish.
In the past year, Telemundo's website has seen growing traffic with the number of monthly unique visitors jumping from 1.1 million to 1.8 million. Reader engagement has also gone up with the average number of page views per visitor increasing from 19 to 46.