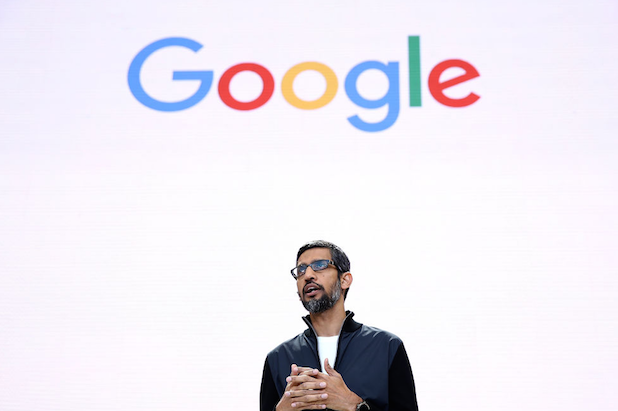 The Daily Stormer is looking for its third home in 12 hours, after its domain registration was cancelled by Google on Monday — only hours after the white supremacist site was booted from GoDaddy for violating its terms of service.
"We are canceling Daily Stormer's registration with Google Domains for violating our terms of service," a Google spokesperson shared with TheWrap.
The spokesperson pointed to Google's "Representations and Warranties" section of its terms of service — which prohibits sites from "deceptive practices" and "items of a destructive or deceptive nature" — as the specific reason for the site's ousting.
Daily Stormer did not immediately respond to TheWrap's request for comment.
Also Read: Trump (Finally) Condemns 'KKK, Neo-Nazis, White Supremacists': 'Racism Is Evil' (Video)
Google's decision comes just hours after the neo-Nazi site was dropped from hosting site GoDaddy for violating its terms of service.
With tabs dedicated to the "Jewish Problem" and "Race War," Daily Stormer has become a notorious landing spot for racists online. The site has gained increased attention following the "Unite the Right" rally in Charlottesville, Virginia this past weekend; home-renting site Airbnb cancelled several reservations from Daily Stormer members using the site to attend the rally and throw parties.
Web-hosting company GoDaddy gave the Daily Stormer 24 hours to move its domain to another provider on Sunday, after the site published a negative story about Heather Heyer — the woman who died during weekend violence in Virginia when a white supremacist slammed his car into a group of counter protestors.
Also Read: Jeff Sessions Defends Trump's Charlottesville Reaction: 'We're Making Too Much Out of This'
GoDaddy said it would no longer host Daily Stormer because it violated the company's terms of service. Meanwhile, international hacking group "Anonymous" appeared to hack the site and threatened to shut it down — but Twitter accounts linked to the hacking group claim the whole thing is a stunt.
Hackers took control of the site briefly on Monday morning, with a post saying founder Andrew Anglin has spewed hate on the site for "too long," and noting "we have all the details on the servers and will be releasing the data when we feel the time is right." Anglin regained control later in the day, sharing in a blog post, "it's going to take bullets to stop us."
But it was GoDaddy, not hackers, that ultimately got the site ousted from the web hosting service.
We informed The Daily Stormer that they have 24 hours to move the domain to another provider, as they have violated our terms of service.

— GoDaddy (@GoDaddy) August 14, 2017