You might recognize the teeming, diverse world of Disney's "Zootopia" with its competing animal agendas, identities and personalities.
The filmmakers behind the billion-dollar animation hit think it's a lot like our own — never more so than now, in the wake of the presidential election.
"There's no way we could have possibly foreseen this would happen, especially this year," "Zootopia" co-director Byron Howard told TheWrap's Steve Pond on Tuesday at Q&A following a screening of the film. "It's weirdly timely — the fear-mongering, the political upset, the divisiveness …"
Also Read: Oscars Brutal Animation Race Sets Record With 27 Entries
"It's not like this is a new phenomenon, unfortunately," said Phil Johnston, one of the film's several writers. "You could say we were prescient but I think we were just paying attention to what was going on. It's not like it's been rosy for the last 400 years."
The Disney film, which opened in March, follows an adventurous rabbit who leaves her small town bound for Zootopia to be a police officer — unheard-of at a Zootopia Police Department populated by animal predators. What follows is an allegorical study of how prejudice affects Zootopian society — and how principles of diversity and inclusion create a common bond between predators and prey. The voice-actor cast includes Ginnifer Goodwin, Jason Bateman, Idris Elba and Bonnie Hunt.
"Zootopia," one of 27 entries in a crowded Oscar animation field, crossed into the elite $1 billion club for global box office in June — maybe the only such film to navigate the challenging issue of bias in a cartoon context.
Also Read: 'Zootopia,' 'Kubo and the Two Strings' Lead Annie Awards Nominations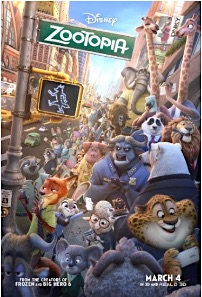 Howard said that four years ago, "we had this idea about predator and prey from the beginning. And we started to look at sociology and how people interact and how people are like animals themselves. They can be very territorial and very defensive, they want to stay safe and be with people like [them] and we thought, 'wouldn't this be a great way to talk about bias?"
The filmmakers went to John Lasseter, chief creative officer at Disney Animation Studios (and, Howard said, "a huge fan of animals in tiny clothes"). "It was terrific because they were so supportive of that," Howard said. "You wouldn't think that normally they would be supportive of a piece of entertainment about something that was so tricky to talk about, but everyone embraced it."
"It was a huge amount of research," co-director Rich Moore said. "One of the biggest things we found was that the natural percentage of animals in the wild is 90 percent prey and 10 percent predators. And predators and prey don't segregate themselves in the wild; they actually gather around the same watering hole together. That felt very applicable to how we relate as human beings."
The filmmakers researched the polar opposites of predator and prey in a very real-world setting. "We did get to go to Kenya for two weeks on safari," said Jared Bush, also a co-director and one of the screenwriters. "When you're there, you're in the animals' world. To have no fences and seeing animals in massive groups, I've never seen anything like that before."
It played a role in building the universe of "Zootopia," populated by (among other critters) our rabbit protagonist (Goodwin), a streetwise fox (Bateman), a lion as the mayor (Oscar winner J.K. Simmons), and a water buffalo as the chief of police (Elba).
Also Read: 'Zootopia': 5 Secrets Behind Disney's Record-Breaking Romp
They also got a big assist from Dr. Shakti Butler, a filmmaker and an educator on racial diversity. "She taught us everything there was to know about bias and discrimination — things we had no idea existed," Howard said.
"That's a good thing about animation in particular," Johnston said. "You can bury allegory a little more easily than you can in a live-action film, where the same idea might feel preachy or didactic or on-the-nose. With talking animals, you can somehow say something about human bias and prejudice and racism."
For Johnston, that message is eminently exportable into our world. "It would be great if we could all say one thing, do one thing and magically we stop being racist. It doesn't happen, it's never going to happen. But if we can offer a little bit of hope to make the world a little more thoughtful or a little more self-reflective … maybe we'll talk about it and our kids will talk about it, and on and on it goes."