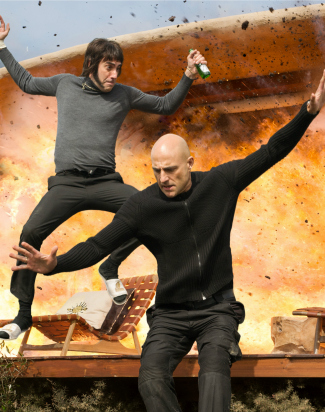 "The Brothers Grimsby" is off to a grim start at the box office this weekend after grossing just $235,000 from 1,937 locations on Thursday night.
J.J. Abrams' latest production, "10 Cloverfield Lane," on the other hand, had an impressive start to its opening weekend. The thrilled scared up $1.8 million from approximately 2,500 locations.
Tracking for a $20 million weekend, "10 Cloverfield Lane" isn't a sequel to the 2008 breakout hit "Cloverfield," despite its title.
---
Also Read: Why 'Zootopia,' 'Brothers Grimsby' and Other Movies Change Titles When They Open Overseas
---
Director Dan Trachtenberg's feature film debut was called "The Cellar" when it was in the script stage in 2014. It subsequently became "Valencia," and then took on its current title during development at Bad Robot Productions to evolve into what Abrams has called a "blood relative" or "spiritual successor" to "Cloverfield."
Written by Josh Campbell, Matthew Stucken and Damien Chazelle, "10 Cloverfield Lane" stars Mary Elizabeth Winstead, John Goodman and John Gallagher, Jr.
In "Grimsby," Sacha Baron Cohen plays the idiot brother of a British secret agent (Mark Strong) enlisted to help crack a major case. Penelope Cruz, Rebel Wilson, Isla Fisher and Gabourey Sidibe co-star in the comedy directed by Louis Leterrier ("Now You See Me").
---
Also Read: Will 'Zootopia's' Box Office Run End at '10 Cloverfield Lane?'
---
Cohen's film, which welcomes him back to the big screen after starring  in "Les Miserables" in 2012, is tracking for $10 million, according to estimates.
The Sony Pictures Entertainment release appears unlikely to match the openings of Baron Cohen's two most recent R-rated comedies "Bruno," which debuted to $30.6 million in 2009, or "The Dictator," which rolled out to $17 million in 2012.
Meanwhile, Focus' "The Young Messiah" grossed $475,000 from 1,300 theaters last night.
It is looking to make under $10 million its opening weekend. Adam Greaves-Neal stars in the film directed by Cyrus Nowrasteh, who co-wrote the screenplay with his wife Betsy Giffen Nowrasteh. Anne Rice wrote the novel it's based on.
Sara Lazzaro, Vincent Walsh, Clive Russell and Sean Bean co-star. Christopher Columbus, Mark Radcliffe, Miachel Barnathan, Tracy K. Pricea and Mark W. Shaw produced.
---
Also Read: 'Zootopia': 5 Secrets Behind Disney's Record-Breaking Romp
---
"The Perfect Match," executive produced by Queen Latifah, took in $155,000 at just 790 locations on Thursday, and is looking to gross less than $5 million this weekend.
"The Perfect Match" is an R-rated rom-com targeting African-American audiences directed by Bille Woodruff ("Beauty Shop").
Terrence J, Cassie Ventura, Lauren London and Paula Patton star in the film, which is based on a screenplay by Dana Verde and written by Brandon Broussard and Gary Hardwick. CodeBlack Entertainment produced and Lionsgate is distributing.
Disney's "Zootopia" will still reign at the box office this weekend, which will most likely make another $40 million its second weekend after grossing a record-breaking $75 million during its debut.
Sacha Baron Cohen's 9 Craziest Stunts Before 'Who Is America?' (Videos)
Bruno and Baby O.J. In "Bruno," Sacha Baron Cohen's Austrian character adopted an African baby and brought him onto a reality show wearing a t-shirt that said "Gayby." Calling him O.J., Bruno revealed he "swapped the baby for a limited edition U2 iPod."
The Dictator's Oscars Blunder In 2012, Baron Cohen took on the persona of The Dictator, and spilled Kim Jong-il's fake ashes all over the Oscars red carpet and host Ryan Seacrest. Seacrest later said he suspected a prank.
Bruno Interviews Neo-Nazis Bruno chatted to Neo-Nazis about homosexuals at "Evil Fest" while a man in the video continuously did the Hitler salute.
Borat Sings National Anthem Borat attended a rodeo and decided to sing the Kazakhstan national anthem lyrics to the tune of the American national anthem after he told the crowd he supported America's "war of terror." The whole stunt angered many to the point where rodeo officials had to escort Baron Cohen out of the arena for fear of a riot.
Baron Cohen Pushes Grace Cullington Off Stage When the actor accepted the Charlie Chaplin Britannia Award at the BAFTAs in 2013, he "accidentally" pushed Grace Cullington, the last person alive to have worked with Chaplin, off stage. After gasps and shock, everyone became aware it was a staged joke.
Bruno Labels Shopkeeper as Terrorist In "Bruno," he interviewed a man he labeled as a terrorist from the al-Aqsa militant group in the West Bank and asked him to kidnap him so Bruno could become famous. In fact, the man was a shopkeeper and sued Baron Cohen for libel and slander, seeking $110 million in damages. He later settled for an undisclosed amount.
Bruno's Baby Photo Shoot After picking up baby O.J. at the baggage claim, Bruno had a baby photo shoot, where he asked parents whether their babies were OK with exposure to wasps, fast acceleration, dead or dying animals and if they were fine with undergoing liposuction to lose weight.
Bruno Goes Camping Bruno went camping with hunters in Alabama, and things quickly got tense when he started talking about hot men and wanting to get into tents with the hunters. The men loaded their guns on camera and according to many news outlets, the team had to flee.
Bruno's MMA Fight Men in Arkansas went to see some cage fighting, but what they got instead was Bruno fighting against his ex-boyfriend Lutz before they ended up kissing and rolling around on the floor. The audience became enraged and threw beer cups and chairs at the pair, until the actors escaped through a tunnel, according to multiple media reports.