Cicely Tyson is a legend. An Oscar nominee, an Emmy winner and, as of Sunday night, a Tony winner for her leading performance in "The Trip to Bountiful."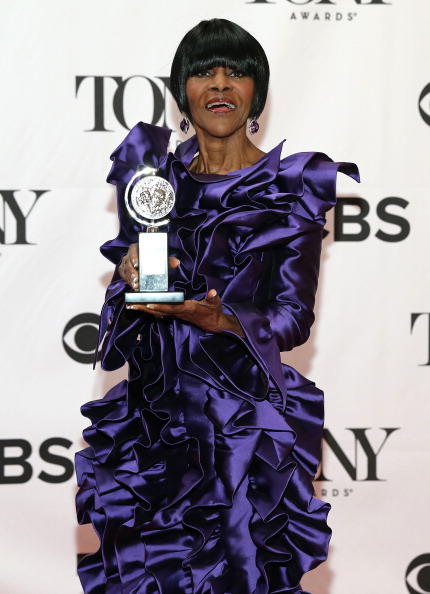 To put it politely, she is also a very unique dresser. Twitter and other social media platforms exploded last night as talk turned to the ruffled purple gown that Tyson wore to the Tony Awards.
It accomplished the unique feat of being both futuristic and formal.
Also read: Tony Awards: The Complete Lists of Winners
Tony viewers were involved in a game of one-upsmanship, trying to outdo one another to come up with the perfect pop culture reference to describe the idiosyncratic fashion statement, as they likened the outfit to everything from the California Raisins to Maleficent's headdress.
Here's a break down of some of the best reactions to a dress that should at the very least get kudos for being bold.
Ursula the Sea Witch
The jagged folds and train of Tyson's gown called to mind the tentacles of "The Little Mermaid" villainess.
If they ever revive the stage version of the hit cartoon, Disney should seriously think about casting Tyson.
Guggenheim Museum in Bilbao
"It's very daring of Cicely Tyson to wear a Frank Gehry dress," Time Out New York critic Adam Feldman tweeted during the telecast.
Indeed, Tyson's outfit were reminiscent of he undulating limestone and titanium facade of the architect's famous art museum.
Hopefully it weighed less.
A Purple Scrunchie
These elastic hair ties were ubiquitous in the 1980s and 1990s, but don't seem to have the same cultural sway that they once did.
Perhaps Tyson's brave re-imagining of the hair accessory in dress form will reinvigorate America's love of all things scrunchie.
The Borg Queen
Richard Lawson of the Atlantic Wire quipped that Tyson's outfit was designed by Alice Krige, who memorably portrayed the cybernetic organisms' leader in "Star Trek: First Contact."
Yes, Tyson's dress with its purple hues, was warmer than Kirge's "Hellraiser" look, but its bold swirls did share a certain similarity with the Borg Queen's elaborate hairdo of wires.
Resistance is futile.
Fruit of the Loom
No, it didn't look as if the venerable underwear maker designed Tyson's number, it just evoked its long-running advertising campaign that sees a cornucopia of fruit talking up the merits of its skivvies.
"The 79-year-old legend, who won best leading actress in a play for 'The Trip to Bountiful,' showed up in purple, um, ensemble that looked like the grape in the old Fruit of the Loom commercials had gone on a diet," Vicki Hyman of the Star-Ledger joked.
A Beanbag Chair
What Tyson's dress may have lacked in elegance, it more than made up for in comfort.
In fact, the 79-year old's outfit wouldn't have looked out of place in any college dorm room. Perhaps staying young is the best revenge.