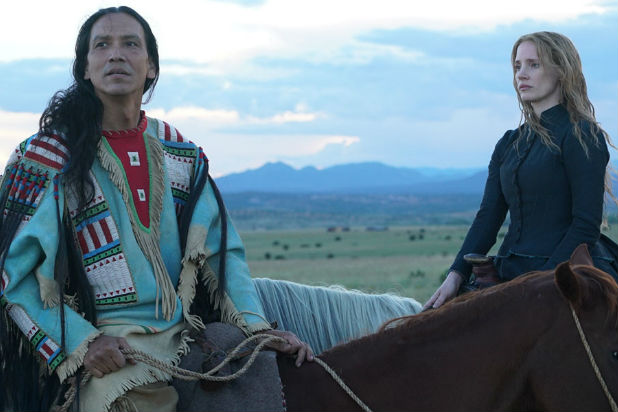 A24 and DirecTV have acquired the U.S. rights to Jessica Chastain's western drama "Woman Walks Ahead," the companies announced Friday.
The film made its world premiere at the 2017 Toronto International Film Festival. Directed by Susanna White, "Woman Walks Ahead" stars Sam Rockwell, Michael Greyeyes, Ciaran Hinds and Bill Camp.
Edward Zwick, Marshall Herskovitz, Erika Olde, Richard Solomon and Andrea Calderwood produced, while the screenplay was written by Stephen Knight.
Also Read: Jessica Chastain Wants 'Woman Walks Ahead' to Create Hope Amid Our Current 'Political System' (Exclusive Video)
A24 and DirecTV are planning a 2018 release, with A24 planning a national theatrical roll out in all major markets.
"Woman Walks Ahead" follows Catherine Weldon, a widowed artist from New York in the 1880s, who travels to North Dakota to paint a portrait of Sitting Bull. They strike up a strong friendship and join forces to take on the U.S. government to fight for Native American land rights.
"We are incredibly excited to be bringing the 'Woman Walks Ahead' out into the world," said A24 in a statement. "Susanna has crafted a rousing, deeply human film that is at once a fascinating piece of history and a remarkably relevant and gripping look at human rights and the courage it takes to stand up for what you believe in. We are so happy to be working with our amazing partners at DirecTV to give this extraordinary film the platform and profile it deserves."
READ MORE

See Jessica Chastain's latest POWER MOVE.
White added, "I am so thrilled to have A24 release 'Woman Walks Ahead.' They are such a creative and imaginative company and a great fit for the movie."
CAA handled the negotiation on behalf of the filmmakers, with IM Global repping international rights on the film.
117 Amazing Portraits From TheWrap's Toronto Studio, From Angelina Jolie to Jim Carrey (Photos)
1 of 118
TIFF 2017: Jake Gyllenhaal, Helen Mirren, Benedict Cumberbatch and more sit down to talk about their latest projects
Actors Margot Robbie, Sebastian Stan, Allison Janney and director Craig Gillespie, "I, Tonya"
Photographed by Corina Marie for TheWrap at the Thompson Toronto