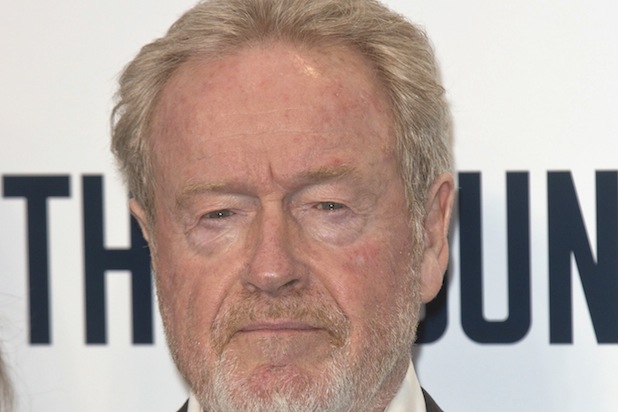 The American Film Institute has announced that the latest wave of programming at AFI Fest 2015  includes a conversation with "The Martian" director Ridley Scott, a tribute to "45 Years" stars Charlotte Rampling and Tom Courtenay and the addition of Paolo Sorrentino's "Youth" starring Michael Caine.
Rampling and Courtenay will appear onstage to reflect on their illustrious careers before a special ccreening of "45 Years" at the TCL Chinese Theatre, while "Youth" has been added to the Special Screenings section of the festival.
Additional Conversations include the Indie Contenders Roundtable featuring a panel of distinguished filmmakers and talent who have achieved standout work this year in independent film, as well as a salon-style discussion in the festival Cinema Lounge with "Suffragette" director Sarah Gavron and screenwriter Abi Morgan.
Also Read: AFI Fest Adds Oscar Contenders, Festival Favorites to Lineup
In the Presentations section, the festival will screen the North American premiere of Italy's Oscar candidate "Don't Be Bad," directed by the late Claudio Caligari and co-presented by Luce Cinecittà, the Italian Trade Commission and the American Cinematheque; and director Nicholas Brooks' inventive romantic comedy "Sam," which was executive produced by Mel Brooks.
AFI FEST will take place November 5-12, 2015, in the heart of Hollywood. Screenings and Galas will be held at the historic TCL Chinese Theatre, the TCL Chinese 6 Theatres, Dolby Theatre, the Lloyd E. Rigler Theatre at the Egyptian, the El Capitan Theatre and The Hollywood Roosevelt.
Also Read: AFI Fest Completes Lineup With Oscar Contenders, Films With Maggie Smith and Tim Roth
CONVERSATIONS
The Music of Cinema:  A Conversation with Paolo Sorrentino and Michael Caine
Wednesday, Nov. 11

In Paolo Sorrentino's new film "Youth," two-time Oscar winner Michael Caine brings to life the beautifully vibrant mind of composer Frank Ballinger. Caine will discuss his role in the film he calls a favorite in his remarkable, six-decade career while Sorrentino will share his process in crafting this unique motion picture. This extended Conversation with Sorrentino and Caine will take place after the first AFI Fest screening of "Youth."
ON DIRECTING:  A Conversation with Ridley Scott
Wednesday, Nov. 11
An intimate discussion with one of the world's most accomplished directors, Ridley Scott ("Alien," "Blade Runner," "Gladiator"), as he takes us through "The Martian."
INDIE CONTENDERS ROUNDTABLE PRESENTED BY THE HOLLYWOOD REPORTER:
Sunday, Nov. 8
This exciting event at AFI Fest 2015 provides festival-goers with the opportunity to hear from a diverse panel of distinguished filmmakers who have achieved standout work this year in independent films. The panel will feature a 90-minute discussion with the filmmakers about their lives, careers and influences, as well as the challenges and rewards of working in independent film. Panelists include writer/director Ramin Bahrani ("99 Homes"), actress Blythe Danner ("I'll See You In My Dreams"), writer/director Tom McCarthy ("Spotlight"), actress Saoirse Ronan ("Brooklyn"), actor Jason Segel ("The End of the Tour"), actress Sarah Silverman ("I Smile Back"), actress Lily Tomlin ("Grandma") and actress Olivia Wilde ("Meadowland").
REVOLUTION ONSCREEN:  A SALON CHAT WITH SARAH GAVRON AND ABI MORGAN
Sunday, Nov. 8
Director Sarah Gavron and screenwriter Abi Morgan sit down for an intimate discussion of their new film "Suffragette," starring Carey Mulligan and Meryl Streep. The Salon will be moderated by Patty West, director of the AFI Conservatory Directing Workshop for Women.
Gavron's debut 2007 feature "Brick Lane," co-written by Morgan, scored her a BAFTA nomination.  Lauded screenwriter Morgan has received two BAFTA Awards, and her many film credits include "The Iron Lady" and "Shame."
TRIBUTE TO CHARLOTTE RAMPLING AND TOM COURTENAY
Wednesday, Nov. 11
The festival will celebrate screen legends Charlotte Rampling and Tom Courtenay, both of whom won 2015 Berlin International Film Festival Silver Bear prizes for their masterful performances in "45 Years," which will screen after the Tribute.
Rampling's deeply intelligent body of work includes performances in "Georgy Girl" (1966), "The Damned" (1969), "The Night Porter" (1974), "Stardust Memories" (1980), "The Verdict" (1982), "Under the Sand" (2000), "Swimming Pool" (2003) and "Young & Beautiful" (2013), among other films.
Courtenay has received two BAFTA Awards throughout his career, and earned Oscar nominations for "Doctor Zhivago" (1965) and "The Dresser" (1983). Notable credits include "King & Country" (1964), for which he won Best Actor at the Venice Film Festival, and "A Rather English Marriage" (1998). Courtenay was knighted in 2001.
PRESENTATIONS
In addition to the previously announced AFI Conservatory showcase of the four 2014 alumni films that were finalists at the 42nd Student Academy Awards, Presentations include two AFI Fest premieres: Nicholas Brook's "Sam," which will be followed by a Q&A with the filmmakers, and Italy's 2016 Foreign Language Film Oscar entry "Don't Be Bad" from late director Claudio Caligari.
SAM – A handsome and misogynistic playboy in New York City must confront his ignorant ways when he wakes up one day magically transformed into a woman.  DIR Nicholas Brooks. SCR Nicholas Brooks.  CAST Morgan Fairchild, Bryan Batt, James McCaffrey, Sean Kleier, Natalie Knepp, Sarah Scott, Brock Harris, Stacy Keach. USA.  Screening Monday, Nov. 9.
DON'T BE BAD - Set in the drug-fueled scene of the mid-'90s, Italy's entry for the 2016 Best Foreign Language Film Oscar® follows a pair of hard-partying friends whose world is thrown into question by the arrival of an alluring woman. DIR Claudio Caligari (1948-2015).  SCR Claudio Caligari, Giordano Meacci, Francesca Meacci. CAST Luca Marinelli, Alessandro Borghi, Silvia D'Amico.  Italy.  Screening Thursday, Nov. 12.
AFI CONSERVATORY SHOWCASE – As previously announced, four films have been selected as a sampling of recently honored work from the AFI Conservatory, recognized as one of the world's top film schools. This year, AFI made history by winning all three medals — gold, silver and bronze — in the Narrative category of the 42nd Student Academy Awards competition. Henry Hughes (AFI Class of 2014) received the top prize, the gold medal, for "Day One"; the silver medal was awarded to Jeremy Cloe (AFI Class of 2014) for "This Way Up"; and the bronze medal to Bennett Lasseter (AFI Class of 2014) for "Stealth." Also a finalist this year was "Against Night," directed by Stefan Kubicki (AFI Class of 2014).  With the addition of these films to the program, AFI Fest boasts an overall total of 77 Conservatory alumni with 22 films in the festival. Screening Tuesday, Nov. 10.
ADDITIONAL SPECIAL SCREENING
YOUTH – Michael Caine gives a career-defining performance in this story of a retired composer whose relaxing retreat to a Swiss spa is interrupted by two women, played by Rachel Weisz and Jane Fonda. Written and directed by Paolo Sorrentino, the film co-stars Harvey Keitel and Paul Dano. Screening Wednesday, Nov. 11 (with Michael Caine and Paolo Sorrentino in Conversation) and Thursday, Nov. 12.
As previously announced, the Opening Night Gala will be the World Premiere of Angelina Jolie Pitt's "By the Sea" on Thursday, Nov. 5. Among the Centerpiece Galas will be Michael Moore's new documentary "Where to Invade Next" on Saturday, Nov. 7; Patricia Riggen's Chilean miner drama "The 33" on Monday, Nov. 9; and the World Premiere of Peter Landesman's football drama "Concussion" on Tuesday, Nov. 10. The Closing Night Gala will be the World Premiere of Adam McKay's real estate drama "The Big Short" on Thursday, Nov. 12. Also previously announced are the nine films in the American Independents section, which represents the best of independent filmmaking this year, and 11 films in the New Auteurs section, which highlights first and second-time narrative feature film directors from around the world.