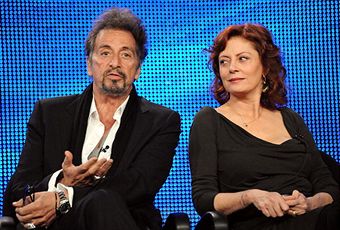 Oscar winners Al Pacino and Susan Sarandon are set to star in the financial thriller "Arbitrage," reports Variety.
The duo just co-starred in Barry Levinson's HBO movie "You Don't Know Jack."
Nicholas Jarecki wrote the script and will make his feature directorial debut with the project, which stars Pacino as a hedge fund manager who is in over his head and desperate to complete the sale of his shady trading empire to a major bank before his fraud is revealed. However, an unexpected, bloody error forces him to turn to the most unlikely corner for help in protecting him from rivals who want to bring him down.
Sarandon will play Pacino's wife, while Eva Green will play his art dealer mistress.
Michael Ohoven ("Capote") is producing and financing the picture through his company Infinity Media. Kevin Turen and Robert Salerno will also produce, while Laura Bickford ("Traffic") will exec produce with Brian Young ("The Runaways").
Production is scheduled to begin next spring in New York.
ICM is representing the project's North American rights, and Lisa Wilson's Parlay Films will be selling international rights at the American Film Market.
Pacino was last seen on the big screen in the 2008 thriller "Righteous Kill." He next plays Adam Sandler's father in the sibling rivalry comedy "Jack and Jill," and is said to be circling a feature adaptation of William Shakespeare's "King Lear."
Jarecki previously directed the James Toback documentary "The Outsider," and he also co-wrote and exec produced Gregor Jordan's adaptation of Bret Easton Ellis' novel "The Informers."
Sarandon recently appeared in Oliver Stone's "Wall Street: Money Never Sleeps," while Green has been busy filming the Starz series "Camelot."
Pacino and Sarandon are represented by ICM, while Tavistock Wood Management reps Green.
Jarecki is represented by WME and Untitled Entertainment.