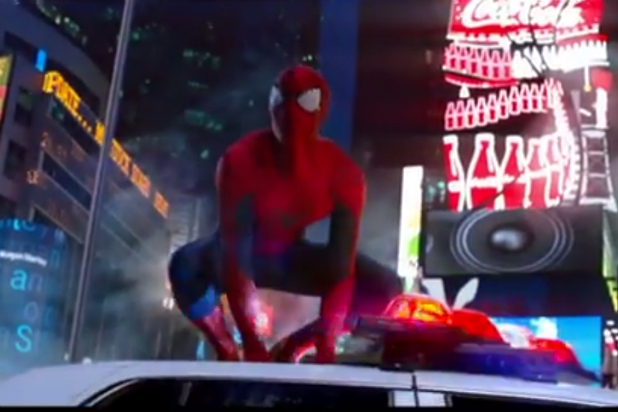 With less than two months before its release, "The Amazing Spider-Man 2" has entered the next phase of its promotion: releasing full clips.
We've seen a plethora of trailers and other bits and promotions for Marc Webb's follow-up to his 2012 reboot, and with plenty of competition in the space for big summer movies — "Godzilla," Maleficent," and sequels to "Captain America" and "X-Men" will open in April and May, as well — Sony is working hard to keep the webslinger in our minds.
See video: 'Amazing Spider-Man 2' Clips: England Comes Between Gwen Stacy and Peter Parker
Two full clips have been released online, working two appeal to very different sensibilities. There remains a bit of mystery to Jamie Foxx's Electro character — he's one of the big baddies in this sequel — and so the first clip gives us an idea about his powers and internal struggle. Its Times Square setting also provides a sort of shout out to the fact that "Amazing Spider-Man 2" is, until Marvel begins its Netflix series, the biggest production ever shot in New York.
The other clip focuses on the excellent chemistry between Garfield and Emma Stone, who plays the ultimately ill-fated Gwen Stacey. Every moment they spend together is heartbreaking.
Sony has a lot riding on this sequel, as the studio is looking to expand its main superhero's universe to fit in side characters and spinoffs, adhering to the current business plan of every major studio with a name brand comics franchise.
Watch the clips: