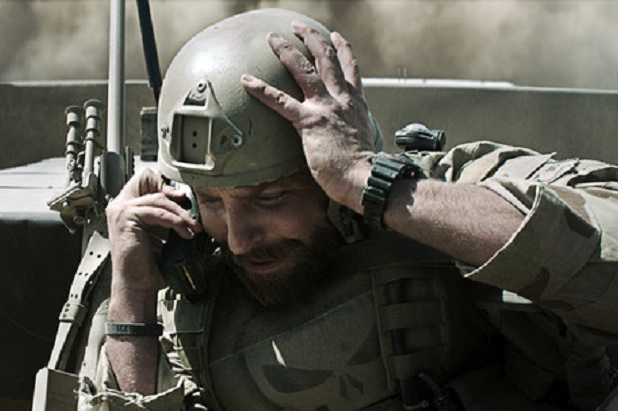 The Iraq War saga "American Sniper" continued to sizzle in its limited box office run this weekend, adding an impressive $555,000 from just four theaters.
That's an eye-popping $138,750 average for the Warner Bros.-distributed drama directed by Clint Eastwood and starring Bradley Cooper, which has played at the same four New York and L.A. theaters since opening on Christmas Day. "American Sniper" averaged $158,227 in its first weekend and $169,227 last weekend, and this week's haul was off just 18 percent from that.
Village Roadshow's R-rated film was adapted by Jason Hall from Chris Kyle's autobiography of the same name, and follows Kyle's struggles to be a good father and husband while fighting in Iraq.
Also Read: Liam Neeson's 'Taken 3′ Goes Out with Guns Blazing at Box Office
Its biggest test will come Friday when it opens nationwide. Big limited runs don't always translate into mainstream success, but its patriotic themes should connect with Heartland audiences, and pre-release tracking suggests it could debut north of $35 million. Should it be among the Best Picture contenders when the Oscar nominations are announced Thursday, it will have some extra ammo at the box office.
"American Sniper" has taken in $3.1 million at the domestic box office so far and $14.6 million from overseas. It opens in the U.K. on Friday as well.
"The Imitation Game" took in a $7.5 million and was sixth on the national charts after the Weinstein Company release expanded by 812 theaters to 1,566 locations in its sixth week. That pushes its domestic total over $40 million and it has added another $31 million from overseas, including $22 million from the U.K.
Also Read: 'Grand Budapest Hotel' Tops 'Theory of Everything' and 'Imitation Game' in BAFTA Nominations
The PG-13-rated tale of British cryptologist Alan Turing stars Benedict Cumberbatch and Keira Knightley and was directed by Morten Tyldum.
"Wild," the R-rated survival saga starring Reese Witherspoon, passed the $30 million mark in domestic grosses this weekend. It took in $2.8 million for Fox Searchlight, a $2,215 per-theater average, and just missed the top ten in its sixth week.
Searchlight's dark Michael Keaton comedy "Birdman" is over $26 million domestically after adding $589,000 from 228 theaters in its tenth week of release.
"The Theory of Everything," the Stephen Hawking biopic from Focus Features, is just behind it with $25.8 million. The PG-13-rated drama starring Eddie Redmayne and Felicity Jones brought in $675,000 from 408 heaters in its tenth week.