Shelley Zimmerman and Rebecca Glashow weigh in on leading a digital company that's aiming to grab Gen Z eyeballs
Awesomeness is only getting started, if you ask Shelley Zimmerman and Rebecca Glashow, who were named co-heads of the company after its acquisition by Viacom last year. Indeed, the new bosses plan to double down on digital content that speaks directly to millennials and Gen Z viewers.
Its first Netflix original series, "Trinkets," about three high school students who meet in a Shoplifter's Anonymous meeting, is set to debut this Friday and adds to a growing list of Netflix and Hulu movies in production.
Become a member to read more.
And together with Netflix, Awesomeness is developing a sequel to the 2018 hit Netflix rom-com "To All the Boys I've Loved Before," with stars Noah Centineo and Lana Condor set to return. At the same time, it's also continuing to produce content for its popular YouTube channel, which surpassed 7 million subscribers last week.
Also Read: Nickelodeon Hires Awesomeness Exec Shauna Phelan to Lead Live-Action Division
TheWrap recently spoke to Glashow and Zimmerman about creating for Gen Z and the advice they'd give to young women breaking into the entertainment industry.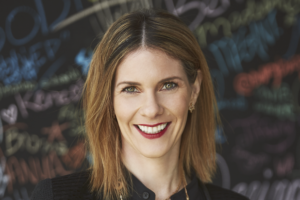 (From left, Rebecca Glashow and Shelley Zimmerman, co-heads of Awesomeness)
Awesomeness has clearly focused on Millennial and Gen Z viewers — why has that been a particular emphasis for the company? 
Shelley Zimmerman: Since Brian Robbins founded the company (in 2012), he recognized the power of this generation. It's not only their tremendous size — they're 25% of the U.S. population — but their ability to create stars and how they're a different consumer of content, going to all these different platforms. So we continue to be very focused on that generation. And what's so great about content for that generation —  if you look at our film "To All the Boys" on Netflix last summer — a hit with that generation really transcends age, and you have people way outside a high school demographic watching that film. And certainly we remember all the iconic films of our youth. because everyone relates to high school. everyone relates to the firsts you go through — your first love, your first kiss, your first heartbreak.
So I don't think our content is only for that audience, but we're certainly focused on serving that audience and telling authentic and relevant stories that they desire and are so ravenous to consume.
Also Read: 'SpongeBob SquarePants'-Themed Game Show to Launch on Facebook and YouTube
Awesomeness makes content for several platforms — YouTube, Netflix, Hulu — but does that create a challenge as well? Creating across multiple platforms?
Rebecca Glashow: It starts with knowing how our audience consumes on these platforms — what's the optimal format? For example, on Instagram, our audience really connects with pop culture. So we invested not so much in narrative storytelling but what's the news, what's happening, what are their favorite people up to. And we've truly started tapping into what they care about on a daily basis, because they're going back multiple times per day.
Whereas the experience on YouTube is more narrative, and view time is longer than on many of these other platforms, but it's primarily unscripted format. It's built around lifestyle — we do a lot of docuseries. We're incredibly proud of the storytelling we've done around real characters, real stories. But it's not a formal, 22-minute episode. To me, it's recognizing what is the viewer coming to the platform for. What is the experience? Are they coming to really lean-back and enjoy or, how much time do they have? What is the talent that matters? On the TV and film side, we have the ability to tell stories over a longer format because that's what people are coming for. We almost exclusively work in binge-able format, and so we're able to delve into longer format storytelling.
When it comes to making content decisions, how much of it is data versus gut instinct? 
Zimmerman: On the digital side, we have a lot more data and information. On the streaming side, there isn't as much information, and certainly we have amazing partners that share with us how they feel about it, but there isn't necessarily as much information available. On the digital side, after a show, certainly there's a lot of analysis on what worked, what didn't and that informs development moving forward.
But I'd also say what's great about this business and why you wake up energized and excited is that hits come from everywhere and there's surprises, and the audience changes as well — what they want, what they're discovering, is such a dynamic thing at this moment in time. So I'd say there's a healthy combination of looking at analytics, but also gut and taste and desire to bring these stories to the audience. If we're really excited about showcasing something fro this audience because we have a hunch they'll like it, that's what is exciting about digital platforms, is the immediacy of the feedback.
Also Read: 'Riverdale' Actor Ross Butler Joins Cast of Netflix's 'To All the Boys I've Loved Before' Sequel
Since joining Awesomeness several years ago, and later taking over, is there a trend that sticks out — something you might not have anticipated?
Glashow: To me, the success that Awesomeness built is that you can build a hit on streaming platforms first. To create film and television for these platforms, (which) we've been dedicated to doing, is unusual. To create (content) that matters this dramatically, like a "To All the Boys" — that have so much wide acceptance — you see that now, but we've been delivering direct to these platforms because we know our audience is there.
Also Read: Netflix's 'The Kissing Booth' and 'To All the Boys I Loved Before' Rewatched by Nearly Half of Viewers
As two women leading an entertainment company, is there any advice you'd share with other young women coming out of college right now that are looking to make it in the industry? 
Zimmerman: Rebecca and I are very fortunate to be working for Kelly Day, who is a female leader within Viacom, and certainly having a mentor and someone with sage wisdom has been a great benefit to our career, so having other female mentors is a great thing.
Something we're really proud of is the startup culture (at Awesomeness) means that a lot of young women and young people have had opportunities to rise quickly. So we've had people who began as interns or assistants who are now leaders in our company and creating content daily, they're producing and directing, and this is something that's an amazing and critical part of the Awesomeness culture. And we're excited about the team's career development day by day.
Glashow: We are incredibly fortunate to be partners with a brand that is primarily female-driven — not entirely, by any stretch — and I think we are so proud to showcase so many different, diverse voices and perspectives. We have different voices and perspectives, but are able to listen to both sides. We share a lot of different stories and perspectives and (suggest) to anybody, whether you're male or female, follow your passion and work hard. Don't ever be limited in your ability to influence and chase what's important.
'To All the Boys I've Loved Before' Star Noah Centineo Portraits (Exclusive Photos)
1 of 6
Star of Netflix's 'Sierra Burgess Is a Loser' stops by StudioWrap for an interview and photo session
Actor Noah Centineo, "To All the Boys I've Loved Before" and "Sierra Burgess Is a Loser" 
Photographed by Steven Gerlich for TheWrap at Aesthesia Studios