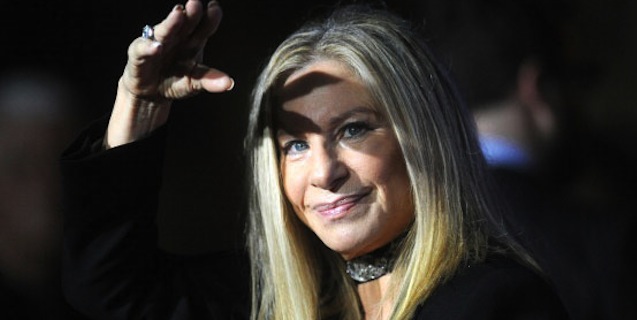 Barbra Streisand will perform on the Oscars telecast for the first time in 36 years, the producers of this year's show said Wednesday.
They did not say what song she would sing.
Streisand, who has battled stage fright at various points in her career, has only sung on the Oscars one time before. She sang the love theme from "A Star Is Born" on the 1977 show, which won her the Best Original Song Oscar that same night.
Streisand was nominated in 1995 for co-writing "I Finally Found Someone" from the song "The Mirror Has Two Faces," but she did not perform the song on that Oscars telecast. Streisand attended the ceremony that year, but watched on as Celine Dion performed the anthem. Dion was herself a last-minute replacement for an ailing Natalie Cole, and took the stage with only a day's notice.
Streisand won her first Oscar for Best Actress for her wise-cracking, song-belting role in "Funny Girl" and was nominated for producing "The Prince of Tides" and for her performance in "The Way We Were" (1973).
"In an evening that celebrates the artistry of movies and music, how could the telecast be complete without Barbra Streisand?" Producers Craig Zadan and Neil Meron said in a statement. "We are honored that she has agreed to do a very special performance on this year's Oscars."
The Oscars will air on Feb. 24 with Seth MacFarlane as host. Streisand won't be the only diva performing on the show. Adele is also slated to perform her Oscar nominated song "Skyfall" from the hit James Bond adventure.