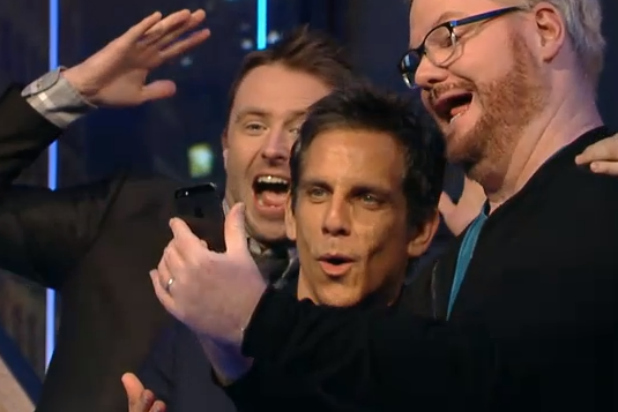 Ben Stiller crashed Comedy Central's "@midnight" on Tuesday while the show was in New York for the 2014 New York Comedy Festival, though the comedian-turned-movie-star played it like he had no business being there.
"This isn't Fallon, is it?" a confused Stiller asked when he wandered on stage, presumably to introduce a segment or plug a project — neither of which Stiller ended up doing.
Chris Hardwick responded with a bit of a shot at the new "Tonight Show": "No, did ping-pong balls fall on you? Is somebody singing karaoke?"
Also read: LeVar Burton Uses Urban Dictionary to Prove the World Needs 'Reading Rainbow' During Surprise '@Midnight' Visit (Exclusive Video)
It became quite clear that, within the context of the bit at least, the "Secret Life of Walter Mitty" star had no clue what show he was on. Still, Stiller tried to play it off while simultaneously big-timing the stand-ups sharing the stage.
"I've seen the show. I love 'A-Midnight,'" Stiller deadpanned, butchering the late-night talk show's title.
He also misidentified its popular Hashtag Wars as "The Hashbag Ward," adding of the segment: "I love it. It's so good, I never miss it."
Also read: Will Ferrell Breaks Down on '@midnight': 'Oprah's One Tough Son of a B-tch!' (Video)
"Do you actually even know my name?" host Hardwick finally asked when it became abundantly clear that the answer would be "No."
After once-again correctly identifying Hardwick as "not Jimmy Fallon," Stiller concluded that, logically, the spikey-haired host must be Seth Meyers.
"Honestly, I have not watched 'SNL' since you left," Stiller said, attempting a compliment.
Also read: How Comedy Central's '@midnight' Cracked the TV Twitter Trend
Watch the video: