Bill Monroe, a former host of NBC's "Meet The Press" and Washington bureau chief, died in Potomac, Maryland on Thursday. He was 90.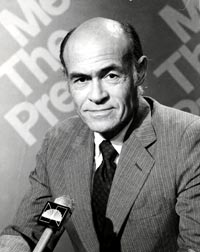 Monroe joined NBC in 1961, first appearing on the show as a panelist until he took over the host role in 1975.
He served as "Meet The Press" host until 1984. On one memorable episode, in 1980, Jimmy Carter announced on the show that the United States would boycott the Olympics in Moscow.
Monroe also served as Washington editor of the "Today Show."
Monroe was born on July 17, 1920, in New Orleans, and "cut his teeth as a reporter covering the Civil Rights movement and struggles over school desegregation in his hometown," according to his Washington Post obituary.
As a radio reporter there, Monroe once interviewed "while he shaved in a shabby rented room."
"As a reporter I did not editorialize," Monroe recalled. "But I did explain to listeners the circumstances of the interview by the corner washstand, and Orleanians could ponder the fact that the world famous Louis Armstrong couldn't get into any of the big hotels in his own hometown."
In addition to his daughter Lee, Mr. Monroe is survived by three other daughters, Arthe Monroe Phillips, Catherine Monroe and Maria Monroe Poole; five grandchildren; and five great-grandchildren."
Monroe is survived by four daughters, five grandchildren and five great-grandchildren.