Billy Campbell, who plays Darren Richmond on AMC's "The Killing," is set to star in "Fat Kid Rules the World," actor Matthew Lillard's directorial debut.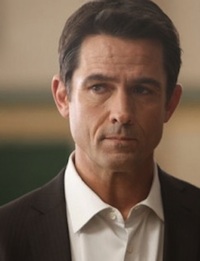 The movie is based on K.L. Going's young-adult novel about Troy, an overweight, suicidal teen (played by Jacob Wysocki in the movie).
He is befriended by the cool but unreliable punk rocker Matt, played by Matt O'Leary ("Cinema Verite," "Brick"). Campbell plays Troy's father, who doesn't like Matt.
Michael Galvin and Peter Speakman wrote the screenplay. Rick Rosenthal and Nick Morton of Whitewater Films are producing with Lillard, Jennifer Maas, Jane Charles, Evan Wasserstrom and Talan Toriero.
Lillard is known for playing the killer Stuart Macher in "Scream," and is known for portraying Shaggy in the Warner Bros. "Scooby-Doo" movies.
He also appears opposite George Clooney in "Descendants," directed by Alexander Payne.
The movie is currently shooting in Seattle.