Back-to-back award shows this weekend and nary a tux in sight.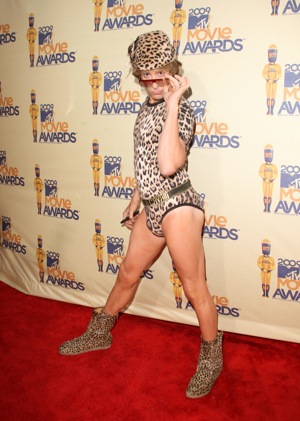 Surely some wished there was some sort of dress code enforced after spotting Sacha Baron Cohen in little more than a leopard-print bikini brief at both the Spike TV Guys Choice show and the MTV Movie Awards. Surely Cohen's flamboyant fashionista alter ego Bruno should know better than to — gasp! — repeat outfits. At least he added angel wings to his ensemble during the MTV taping on Sunday, where he "dangled his goods" over Eminem's head, leading to the rapper's now infamous (and probably staged) huffy exit from the Gibson Amphitheatre.
Nobody does faux fights like MTV. Just ask "The Hills" cast who watched the drama play out from their seats. A less-controversial sneak peek: the much-hyped "New Moon" trailer. The "Twilight" cast, fresh from wrapping up the sequel in Italy, soaked up the fandemonium stateside. But "Best Kiss" winners Kristen Stewart and Rob Pattinson failed to give the fans what they really wanted: an onstage smooch. Instead, they did the ol' fakeout — leaning in, but then stopping short. Halle Berry, on the other hand, went in for the kill with Jamie Foxx after he bestowed "Decade of Hotness" honors upon her during the Spike TV show on Saturday. Guess Adrien Brody taught her well…
Now, onto some premieres. Will Ferrell and Danny McBride hobnobbed with Jeff Zucker and Ron Meyer at the "Land of the Lost" screening at the Mann's Chinese Theatre on Saturday, while Rita Wilson, Billy Zane, Nia Vardelos, Rachel Dratch, Melina Kanakaredes, and Chris Parnell got their fill of pita at a Greek-themed pre-party before watching "My Life in Ruins" on the Fox lot on Friday…
Also on Friday: Robert Rosen, who stepped down as the Dean of Theater, Film and Television at UCLA, received quite the sendoff thanks to animation professor Chuck Sheetz, who used his "The Simpsons" connections to have Rosen recreated as a character on the show. Laughing at the cartoon version of the "rock and roll scholar" as he pontificated about cinema: Paula Wagner, Gore Verbinski, Curtis Hanson, John and Deborah Landis, Leonard Maltin, and Peter Guber…
That same night, David Foster performed with Michael Buble at the Cedars-Sinai Medical Center Heart Foundation's event, which honored Wolfgang Puck with the Steven S. Cohen Humanitarian Award…
And on Thursday, Foster took the stage again — but this time he left the entertaining to Toni Braxton, who closed down the Lupus L.A. Orange Ball with "Unbreak My Heart." Foster was on hand to honor lyricist Carole Bayer Sager, while Drew Barrymore got choked up during her presentation to Fox Searchlight's Nancy Utley, the exec that greenlit her directorial debut, "Whip It!"…
Also crooning for a cause: Stevie Wonder, who helped raise $750,000 for Parkinson's research at the Michael J. Fox Foundation's Summer Lawn Party on Saturday. Wonder performed everything from "Superstition" to "My Cherie Amour" for the crowd, which included Jason Bateman, Jennifer Grey, Jimmy Kimmel, Heather Locklear, Dennis Miller, Amanda Peet, and Penelope Ann Miller. And for the finale? A "Happy Birthday" serenade for Fox's son, Sam, who turned 20…
Finally, on Saturday, Arianna Huffington lauded the eco-chic at Global Green's Millennium Awards, which honored Wallis Annenberg, Jeff Skoll, Zem Joaquin, and Marc Nathanson, whose claim to fame is, drumroll please, waterless urinals. And tonight, the social butterfly will open her home for a chat with Newark Mayor Cory A. Booker.