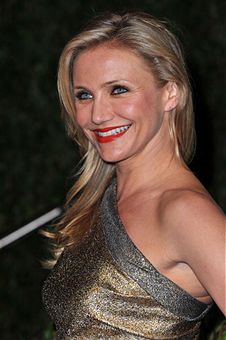 In today's Callbacks — your daily roundup of casting news from Deal Central — Cameron Diaz and Benicio Del Toro prepare for a battle of the exes, Greg Mottola signs on to adapt Paramount's "Important Artifacts," Pam Grier joins Tom Hanks and Julia Roberts in the drama "Larry Crowne" and George R.R. Martin's "The Skin Trade" gets a step closer to the bigscreen.
• Cameron Diaz and Benicio Del Toro are attached to play a bickering couple in Fox's romantic comedy "An Ex to Grind," based on the book by Jane Heller, reports Deadline.
Del Toro will play a former star athlete whose career is cut short by injury. He used to support his waitress wife but now she's the one bringing home the bacon as a successful businesswoman. When she decides to file for divorce, she's horrified to learn that she'll have to pay alimony to her drunken couch potato husband unless she can find him a new wife. Once she succeeds, her replacement restores the man she fell for, prompting her to try and win him back.
I'll admit, I had a hard time picturing these two as a married couple at first, but the logline offers a clearer picture of the project. I can totally see Del Toro as an ex-elite athlete who lets himself go to the dismay of his trophy wife.
Del Toro previously played a star slugger in Tony Scott's baseball movie "The Fan." Then again, he also starred in the romantic comedy "Excess Baggage," which effectively killed Alicia Silverstone's career at the height of her hotness, so he might be better off staying away from that genre.
On the other hand, I'm pleased to see Diaz returning to comedy between this and the upcoming "Bad Teacher," after starring in Richard Kelly's disappointing genre film "The Box," which did her no favors as an actress. Comedy is where her talent lies, and the 37 year-old actress may only have a few years left as a viable romantic comedy lead.
Laura Bickford ("Che") and Julie Yorn ("Unstoppable") will produce the project, which was set up by Rick Yorn and Ian Montone's management/production company.
• "Superbad" director Greg Mottola will adapt Leanne Shapton's book "Important Artifacts and Personal Property From the Collection of Lenore Doolan and Harold Morris, Including Books, Street Fashion and Jewelry" for Paramount, according to the Hollywood Reporter.
Brad Pitt and Natalie Portman are attached to star in "Important Artifacts" as well as produce the offbeat romantic comedy through their respective production companies, Plan B and Handsomecharlie Films.
It's possible that Mottola could wind up directing "Important Artifacts," although his involvement behind the camera isn't part of the deal at this point.
Paramount won the rights to Shapton's book at auction last year. The author crafted an interesting literary conceit — a fictional estate auction catalog full of physical detritus including personal items and photos from the four-year romance between a middle-aged male photographer and a female food columnist in her twenties. Farrar Straus & Giroux published the book last year.
The catalog features items including "books, pajamas, bedside lamps, a stuffed squirrel, an astrakhan coat, the winning half of a wishbone and lots of notes, inscriptions and e-mail messages that start out giddy and become slowly more complicated, angry and sorrowful." In other words, the trivial things with sentimental value that often wind up in a shoebox under the bed and sometimes play a large part in romantic relationships. It's an intriguing entry point for a film about a failed relationship, and Mottola could be the perfect person to adapt this material for the bigscreen, where it will only be helped by having two commercial leads.
Mottola most recently wrote and directed the period coming-of-age film "Adventureland," and is currently in post-production on "Paul," a comedy written by and starring Simon Pegg and Nick Frost ("Hot Fuzz") that is due sometime in 2011.
Pitt will eventually be seen in Terrence Malick's "The Tree of Life," which is not expected to screen at the Cannes Film Festival. He'll shoot Bennett Miller's "Moneyball" this summer before segueing to James Gray's "The Lost City of Z."
Portman has been crazy busy since cheating on Tobey Maguire with Jake Gyllenhaal in Jim Sheridan's underrated "Brothers." She's wrapped the Sundance indie "Hesher," David Gordon Green's period musical comedy "Your Highness" and Darren Aronofsky's ballet thriller "Black Swan." The Oscar-nominated actress is currently filming Kenneth Branagh's "Thor," and will next star in either Ivan Reitman's "Friends With Benefits" opposite Ashton Kutcher, the stoner comedy "Best Buds," or David O. Russell's literary mash-up "Pride and Prejudice and Zombies," which frankly sounds awesome.
• Pam Grier is going from "Jackie Brown" to "Larry Crowne."
The '70s sex symbol has joined the cast of the Tom Hanks-directed drama "Larry Crowne," according to her verified Twitter account (@PamGrier).

Say what? Jackie/Foxy Brown is on Twitter? It's true.
The actress will play Julia Roberts' best friend in the film, which Hanks also wrote and will star in as a man suffering a mid-life crisis. I have a tough time imagining Roberts and Grier getting mani-pedis over cocktails together but any project that casts Grier gets my instant stamp of approval.
On Saturday morning, Grier tweeted: "Tom Hanks just asked me to play Julia Roberts best friend in his new film he is starring, writing, and directing, titled Larry Crowne. OMGDS." I'm not sure the wholesome Hanks would approve of her five-letter language but just hours later, she tweeted her answer: "You know that I said yes to Tom Hanks. He said it was a happy day to work with me, I began to sing OH Happy Day, he knew the words!!"
It seems that Oscar-nominated "Larry Crowne" actress Taraji P. Henson actually broke the news of Grier's involvement with yet another tweet last month: "Just finished a table read 4 my next movie!!! Tom Hanks, Julia Roberts, PAM GRIER(I hugged her so tight…hope she doesn't think I'm weird)." Three days before Henson's leak, Hanks basically announced the entire supporting cast by posting a Twitpic of the production's casting wall of headshots.
In 1997, Grier rocked my 13 year-old world with her fearless performance in Quentin Tarantino's "Jackie Brown," and yet, she never quite experienced the career resurgence that John Travolta enjoyed after starring in the writer-director's "Pulp Fiction." Grier did reinvent herself, however, as a TV star on Showtime's "The L Word." She will next be seen on the bigscreen this May playing Queen Latifah's mother in the romantic comedy "Just Wright."
• Spoke Lane Entertainment has partnered with Mike the Pike Productions to bring George R.R. Martin's Hugo Award-winning werewolf novella "The Skin Trade" to the bigscreen.
The story follows a female private investigator on the trail of a serial killer who has been targeting an underground werewolf clan that rules the remains of a once-vibrant city that has been devastated by a recession.
Mike the Pike finalized a deal to acquire film rights to the story last September. Mike the Pike CEO Mark B. Newbauer and co-founder Beth Newbauer will produce with Spoke Lane's Ryan Colucci.
Newbauer describes the project as being reminiscent of the Oscar-winning psychological thriller "The Silence of the Lambs," as well as having the fantastical elements of "Underworld."
William Christensen's Avatar Press is working directly with Martin on a graphic novel version of the story. Martin's "A Song of Ice and Fire" has been adapted as the HBO series "Game of Thrones," which will star Sean Bean, Lena Headey and Peter Dinklage.
Last year, Colucci produced Lionsgate's CG-animated feature "Battle for Terra." He previously teamed with Warner Bros. and director Mike Newell to bring Terry Brooks' fantasy series "Shannara" to the bigscreen.