Update 3/18 4:00 p.m. PST: "Smurfs" star Neil Patrick Harris (@ActuallyNPH) used Twitter to clarify that Hank Azaria will be playing a live-action Gargamel in the movie, not simply voicing the character. Meanwhile, Gargamel's cat, Azrael, will be played by a real live cat with CGI-enhanced facial expressions, similar to Odie in the "Garfield" movie.
Callbacks is your must-read roundup of the day's casting news from Deal Central.
Today, Columbia considers Reese Witherspoon a "Pioneer Woman," the Smurfs get a touch of "The Simpsons," Sigourney Weaver becomes a vampire, Rose McGowan joins "Conan" and Matt Damon is more through with the Bourne franchise than ever.
• Can you say "Sweet Home Oklahoma?"
Columbia is developing a romantic comedy for Reese Witherspoon based on The Pioneer Woman, a blog by Ree Drummond that the studio has acquired film rights to, reports Deadline New York.
Drummond was a spoiled city girl who took a detour on a trip from Los Angeles to Chicago that led her to Oklahoma, where she met "the cowboy of her dreams" and wound up becoming a domestic ranch wife/blogger. (I wonder how good her wi-fi is out there…)
Should she sign on, the film would follow Witherspoon as she trades in her big city life for a more wholesome existence. (I also wonder if this movie deal will now upset that…)
Drummond has already written a bestselling cookbook, and has another book due next Valentine's Day titled "Black Heels to Tractor Wheels." Rights to the book are included in the deal.
Laura Ziskin ("Spider-Man") and Pam Williams will produce the movie.
• The "Smurfs" movie has nabbed the best voice actor in Hollywood to play its lead villain.
That's right, Hank Azaria ("The Simpsons") will be voicing evil sorcerer Gargamel, the Smurfs' arch-nemesis, reports EW's Hollywood Insider.
Singer Katy Perry has also joined the film as Smurfette, while "Glee's" Jayma Mays will play Neil Patrick Harris' (the live-action lead) pregnant wife.
George Lopez and Alan Cumming will also provide Smurf voices for Raja Gosnell's film, which is set in Central Park and starts production next month.
Whenever I hear about this "Smurfs" movie, I can't help but think of Jake Gyllenhaal's monologue in "Donnie Darko." Makes me laugh every time.
• "Avatar" star Sigourney Weaver will play the vampire queen in Amy Heckerling's romantic horror-comedy (hereby coined ro-ho-co) "Vamps," according to THR's Heat Vision blog.
The film reunites Heckerling with her "Clueless" leading lady Alicia Silverstone, who stars in the modern-day story opposite Krysten Ritter, who is earning strong reviews for her supporting turn in "She's Out of My League."
Heckerling's screenplay follows a pair of beautiful, young vampires living in New York who must choose between the two things women want most — love and eternal youth.
Weaver, who is repped by UTA, will play Ciccerus, a vampire leader who turns the two girls into blood-sucking immortal creatures.
I'm an unabashed Silverstone fan dating back to middle school, so it'll be great to see her back on the bigscreen. Her last movie was the forgettable kiddie movie "Stormbreaker" and she'll next appear in Sebastian Gutierrez's "Women in Trouble" sequel "Elektra Luxx," which debuted at SXSW this week.
• Speaking of Hollywood crushes, "Scream" star Rose McGowan has joined the cast of Marcus Nispel's "Conan," per Variety.
She'll play an evil half-human/half-witch, not "Red Sonja" as had been speculated throughout the blogosphere. Cinematical presumes that McGowan will play an ally of Stephen Lang's villainous warlord Khalar Singh.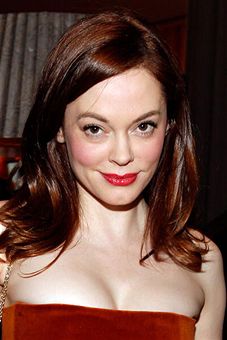 While it's possible that McGowan's character could end up becoming Red Sonja in a sequel, it remains unlikely, despite the fact that a "Red Sonja" poster has been hanging on Millennium's Wilshire Blvd. headquarters at least a year.
I've always thought that McGowan's sex appeal was off-the-charts, even when she was dating Marilyn Manson. I relished seeing her as Cherry Darling in Robert Rodriguez's "Planet Terror," and I look forward to seeing her reprise her role in the writer/co-director's upcoming "Machete." If only Tatum could return for the inevitable "Scream 4." Then I could die a happy blogger.
• Lastly, for those of you holding out any hope of Matt Damon returning to the "Bourne" franchise, you can forget about it.
The "Green Zone" star recently told Parade that "as for me coming back to [play] him again, I'm just saying no."
Damon went on to say that he thinks there's a good way to do a prequel (or perhaps 'two or three') with someone else…" but "I don't think anybody wants to see me say 'I do't remember' again."
Count me as a member of that group. The "Bourne" trilogy featured some great action sequences, particularly in the last two films directed by Paul Greengrass, but I always found the story incredibly lacking, and by the time I left the theater, it felt like I'd contracted a case of Jason Bourne's special "amnesia."