This fall is primed to yield some high-profile showdowns for bragging rights at the weekend box office.
Granted, a first-place finish isn't always the goal: A studio would rather finish fourth and double its production budget than come in No. 1 with half that size.
Here are some of the biggest weekend head-to-heads to watch, from Johnny Depp in "Black Mass" facing off against Dylan O'Brien in the "Maze Runner" sequel to the seven-way competition on Christmas Day:
Also Read: 9 Fall Movie Burning Questions: Will Johnny Depp Snap His Losing Streak? Can Any Holiday Film Survive 'Star Wars'?
Sept. 18: "Black Mass" vs. "Maze Runner: The Scorch Trials"
That bald wig cap and faux blond hair Johnny Depp donned to play mobster James "Whitey" Bulger in Warner Bros.' "Black Mass" may be the best thing going for the actor as he aims to end his streak of box-office bombs at five. It's unscientific but undeniable: the grosses of Depp's movies rise in proportion to the amount of makeup he wears, as evidenced by the success of "Edward Scissorhands," "Alice in Wonderland" and the "Pirates of the Caribbean" movies.
The young adults targeted by Fox's "Maze Runner: The Scorch Trials" and star Dylan O'Brien are an entirely different audience however, and they come out for openings.
Projected winner: "Maze Runner: The Scorch Trials," in a runaway
Oct. 9: "Pan" vs. "Steve Jobs"
Warner Bros. and "Pan" director Joe Wright were nearly keel-hauled for casting Rooney Mara as Captain Hook's gal pal Tiger Lily by those who felt the role should have gone to a Native American actor. But few fish seemed fried when Cara Delevingne was chosen to play the Mermaid and join the cast of Gareth Hedlund, Hugh Jackson and Amanda Seyfried in this latest trip to Neverland.
Producer Scott Rudin's "Steve Jobs" went through David Fincher and potential leads Christian Bale and Leonardo DiCaprio (and considered Tom Cruise and Matthew McConaughey) before Danny Boyle stepped in to direct and Michael Fassbender took the gig as the nerd-turned-icon Apple founder. When all that sausage making emerged in hacked emails, Sony bowed out and Universal stepped in.
Both films should open to around $20 million, which is better news for "Steve Jobs" than it is for "Pan," which cost $150 million to make.
Projected winner: "Steve Jobs," but close
Also Read: 25 Fall Movies We're Dying to See: From 'Everest' to 'The Hateful Eight'
Oct. 16: "Bridge of Spies" vs. "Goosebumps" vs. "Crimson Peak"
You can't do much better than director Steven Spielberg and star Tom Hanks for a Cold War thriller like Disney and DreamWorks' "Bridge of Spies," which is sure to be in the awards conversation.
But you can't do much better than Jack Black and R.L. Stine for the star and creator of a collection of creepy kids horror tales like "Goosebumps," which Sony sees as a franchise.
"Crimson Peak," the gothic romance from director Guillermo del Toro, opens this weekend as well, but will take more of a toll on the adult drama than the live action/CGI kids films.
Projected winner: "Goosebumps," comfortably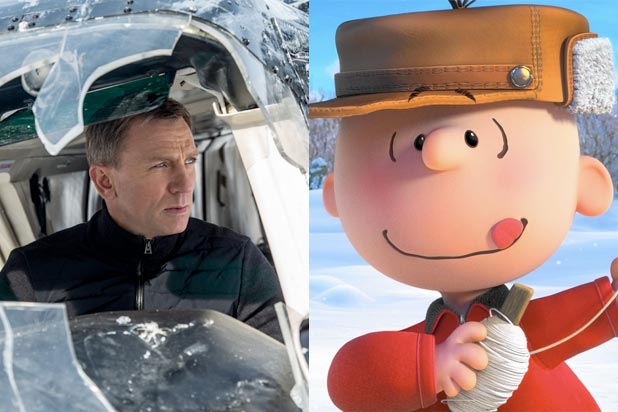 Nov. 6: "The Peanuts Movie" vs. "Spectre"
We love to envision Charlie Brown's friend and nemesis Lucy repeatedly pulling a martini from the grasp of Daniel Craig's 007 at the last second, and the animated kids film from Fox's Blue Sky Studios should lure parents and youngsters.
But we still can't see the big-screen adaptation of Charles M. Schultz's beloved comic strip bringing down the super spy. This time, he takes on baddie Christoph Waitz and welcomes 50-year-old Monica Bellucia as the oldest "Bond girl" ever in MGM and Sony's "Spectre," the 24th entry in one of Hollywood's most venerable franchises.
Projected winner: "Spectre," in a walkover
Also Read: 11 Breakout Fall Movie Stars: From 'Star Wars: The Force Awakens' to 'The Walk'
Nov. 25: "The Good Dinosaur" vs. "The Hunger Games: Mockingjay – Part 2"
When Disney pushed the Peter Sohn-directed "Good Dinosaur" to this year, it meant two Pixar Animation movies in one year, which could be overload. The success of "Inside Out," which has grossed more than $700 million globally, burnished the brand and should only help the new film's chances. And Disney traditionally has had success with animated films ("Frozen," "Tangled," "Toy Story 2") on Thanksgiving.
Lionsgate will do all it can to give Jennifer Lawrence and Katniss Everdeen a fitting farewell. Last year's "Mockingjay – Part 1" didn't match its predecessor "Catching Fire" at the box office, some saw a franchise fading. But it still opened with $121 million — more than any Pixar movie has managed.
Projected winner: "The Hunger Games: Mockingjay – Part 2"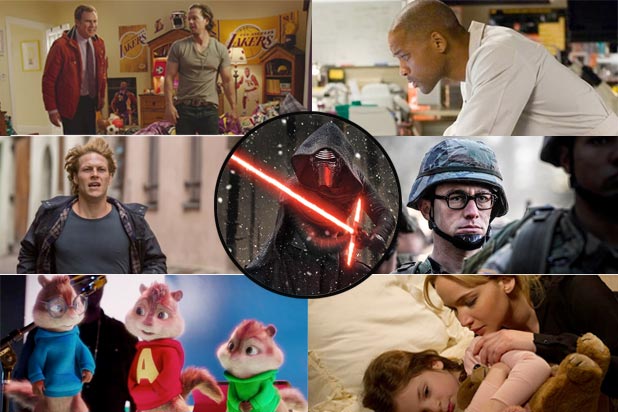 Dec. 25: "Star Wars: The Force Awakens" vs. "Concussion" vs. "Daddy's Home" vs. "Point Break" vs. "Joy" vs. "Snowden" vs. "Alvin and the Chipmunks: Road Chip"
The first film in the blockbuster "Star Wars" franchise in more than a decade will have been out for a week when it takes on a raft of intriguing holiday wide releases.
Sony's Jamie Foxx NFL head injury saga "Concussion" looks to have gravity and mainstream appeal. David O. Russell's "Joy" reteams Jennifer Lawrence and Bradley Cooper, last together in the director's "Silver Linings Playbook." Oliver Stone takes on the Wikileaks scandal with stars Joseph Gordon-Levitt and Shailene Woodley in Open Road's "Snowden."
And while Luke Bracey channels Keanu Reeves in Warner Bros.' "Point Break" remake and Mark Wahlberg and Will Ferrell buddy up in Paramount's "Daddy's Home," the kid stuff will be provided by the fourth "Alvin and the Chipmunks" film. Then, in limited release, we'll see Quentin Tarantino's Western "Hateful Eight" and Leonardo DiCaprio in "The Revenant."
Nonetheless, we'll take The Force over the entire field.
Projected winner: "Star Wars," by light years