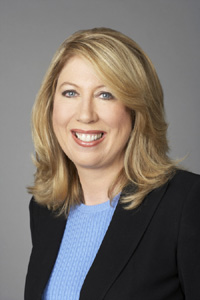 CNN finally has an executive producer for the launch of its Eliot Spitzer-Kathleen Parker show.
Liza McGuirk, currently the executive producer of "Fareed Zakaria: GPS," will take over EP duties at 8:00 p.m., the network announced on Friday.
Jon Klein had been reportedly trying to lure Rachel Maddow EP Bill Wolff away from MSNBC for the slot, but when Wolff declined, Klein decided to go from within.
CNN and McGuirk have a long history. McGuirk was the fifth person hired by CNN in 1980, and spent nine years at the network before leaving to work elsewhere in television – most notably eight years at CBS, four of which were spent producing segments for Ed Bradley. McGuirk came back to CNN in 2008 to launch the Sunday show with Zakaria.
The yet-to-be-named Spitzer-Parker hour is slated for debut this fall.
Klein — who had stubbornly resisted opinion programming for fear of tainting its reputation as a "news leader" — described his vision for the new show last month: "Other cable news channels force-feed viewers one narrow, predictable point of view; in contrast, CNN will be offering a lively roundup of all the best ideas — presented by two of the most intelligent and outspoken figures in the country. Eliot and Kathleen are beholden to no vested interest — in fact, quite the opposite: they are renowned for taking on the most powerful targets and most important causes."