Comcast has dropped the ball in its court offensive against DirecTV's NFL Sunday Ticket package, Comcast announced on its corporate blog Friday.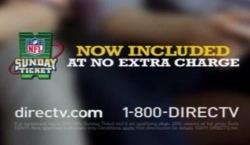 Comcast had argued in court that DirecTV's ads for the package were misleading, as the commercial spots claimed that the service was offered for "free" and "no extra charge." Comcast claimed that the ads neglected to mention that customers needed to sign a two-year contract in order to receive the package, and that the package automatically renewed, at full price, after the first year.
According to Comcast's announcement on Friday, its cease-fire decision came after DirecTV altered its ads.
"DirecTV has discontinued or modified its false and misleading advertising to consumers regarding its NFL Sunday Ticket package as a result of our legal action," the announcement reads. "As such, we have elected to withdraw our complaint on this matter."
DirecTV, however, calls Comcast's claim a hollow excuse for cutting bait when they sniffed defeat. Noting that a judge slapped down Comcast's request for a temporary restraining order against the ads earlier this month, DirecTV said in a statement, "Comcast lost the TRO last week and they withdrew their case today because they knew they were going to lose. Our NFL Sunday Ticket campaign will continue to air as planned."
According to DirecTV, no ads were pulled and only a "small graphic enhancement" was made to one ad a week ago.
"The campaign will continue to air as planned," a DirecTV spokesperson asserted.
Comcast did not immediately respond to TheWrap's request for comment on this story.